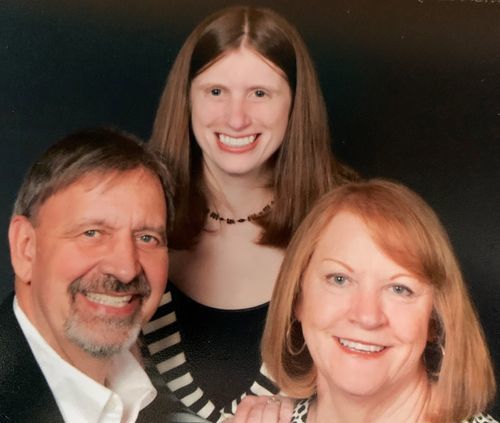 Meet Cindy!
Throughout the month of May, we are honoring our DSC Moms!!! All of you do so much each and every day, and we want to take this opportunity to share some of the inspirational moments and the challenges that you have faced. Happy Mother's Day! We celebrate you!
Cindy Busick is Jenna's mother, a young woman, and past recipient of DSC services. Their family relocated from Illinois to Midway, Kentucky in 2020, and she took the opportunity while they were home during COVID-19 to share their story with us.
After living in the Champaign-Urbana community for many years, Cindy's family decided to move, to be closer to Jenna's brother Lee and his wife, Sara. "It was a hard decision to make, after living in such a wonderful community all that time, but it was the right thing for us to do for this season of our lives," said Cindy.
Though originally from Illinois, the Busick Family previously lived in Kentucky when Jenna was a child and later returned to Illinois when Jenna was transitioning out of high school. She had just experienced a ruptured appendix, and following a recovery period, she was accepted into DSC's Employment Services program.
"DSC has always been a safe place for Jenna," said Cindy. "The Employment Counselors there got to know her easily, and she was comfortable with them. DSC has always been like a second family for us."
"Jenna loved attending DSC," Cindy told us. In fact, she loved it so much, that when the movement began to occur within the disability community and opportunities for people to be able to get jobs, Jenna wasn't sure she was ready. "Jenna would say, 'No, I don't want to leave. I want to stay at DSC with my friends." However, as DSC created volunteer groups and new opportunities for people to get involved in activities outside of DSC, Jenna became energized by it. They would go to restaurants together, or visit Gordyville," said Cindy. "All of the experiences were great bonding times for her."
"I had a boyfriend too," said Jenna. "Yes, when Jenna became interested in boyfriends, DSC helped us navigate that too because we as parents had never had a young adult with a developmental disability. DSC had experience with all of these life situations before. Annette Becherer, especially helped us through all of these things," said Cindy.
At one point during the time when Jenna received services, her family moved to Mahomet from Champaign. Cindy recalls notifying Jenna's Case Manager about the move. "We'll transport her to DSC," she told me. "From Mahomet?" Cindy remembers asking. "I couldn't believe it. For eleven years, DSC picked her up and provided transportation from Mahomet to Champaign. Some of those years, Piattran became the transportation provider. I always thought that was so amazing." "The bus drivers were so nice to me too," said Jenna. "Every day when I got on the bus, they smiled, and they were nice to me." Jenna also increased her independence while receiving support from DSC by learning to ride the MTD as a means of transportation.
Later in Jenna's life, DSC was going through a re-certification process with the Council on Quality and Leadership (CQL), an organization for disability service providers that holds agencies to higher industry standards. As part of the process, a number of employees, people who receive services, and family members participated in presentations and interviews. "During DSC's accreditation process, I gained a new understanding of the quality of services Jenna was receiving. I realized how progressive DSC was in the cultural shift that was happening around the country and how lucky we were. I realize it even more, now that we live in another state," said Cindy.
Thank you, Cindy for sharing your story and all you do as a Mom! Happy Mother's Day!