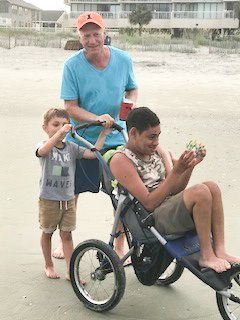 Meet Steve!
In celebration of Father's Day, we're recognizing DSC Dads throughout the month of June and all Dads do. Thank you Dads!!
Steve Watson is the father of three sons, including Guy, who is 31 years old, and receives support from DSC. Remembering back to the early days, when Guy was first diagnosed with cerebral palsy, Steve says he recalls his wife, Julia seeing the signs before he did. "There's a saying about a mother's intuition, and it was true in our case.
Julia was concerned about Guy early on. She had noticed he wasn't as responsive as his two brothers had been around the same age. For that reason, we were connected with DSC, by the time Guy was six months old. As a dad, I was kind of in denial. I wanted to believe everything was going to be okay. I had dreams of going hiking and fishing with my son. It was difficult to let those go. Once I accepted the facts, I was then able to come alongside Julia, and help her do what we needed to do, and get the resources we needed."
It was around that time when the Watson family began their journey with DSC. "Every step along the way, DSC has been there, caring for us and been involved in our lives for almost 31 years now. We've received numerous expert tips, and all the people we've worked with have been so good, and there have been so many. It's a team effort," said Steve.
Due to Covid-19, Steve made a significant life change this past year. With nearly everything shutdown during the pandemic, their family felt the impact in unexpected ways. For years, Guy had been attending DSC's Community Day Services (CDS) program. Unfortunately, at the beginning of the pandemic, the state mandated the closure of all day programming sites. As Guy's father, Steve had a tough decision to make. With both parents working, who was going to care for Guy, all day during the shutdown, with day programming closed? The Watson family was not alone, in facing tough daily support decisions. According to a recent survey from Express Personnel, 40% of employers say employees have left jobs for reasons related to responsibilities involving the daily support of their loved ones during the pandemic.
While some might assume that one could work from home, and care for an adult child with disabilities, that's not always the case. "Guy is a people person and DSC has been a part of shaping that. Everywhere we go, people know him, and we enjoy that. His voice is very distinctive, so people recognize it, and hear him coming often times before they see him. He's also become accustomed to getting out and doing things. He's easily bored. He doesn't want to sit at home all day. The support staff at DSC had introduced him to so many people and new experiences," said Steve.
Their family arrived at the decision for Steve to take early retirement from his career of 35 years, so he could be at home during this time to care for his son. With one of his parents being home with him, he would have good care, but it meant a sacrifice for Steve, and their family.
Steve said that it's not quite the same for Guy either, as when he attended DSC, but they keep busy. Guy loves listening to music from the 1970s era, and he enjoys watching the Lawrence Welk Show, Mister Rogers and blooper shows. They also go to the park often, and spend a lot of time at Guy's brother's home in Savoy. "One of my other sons has a large backyard in Savoy, with plenty of room to play. Guy loves hanging out with, and watching his nieces and nephews play, Guy's had his COVID-19 vaccination, so we spend a lot of time with their family."
Steve said that Guy also loves to help mow the lawn. "He will take a couple of laps with the mower, and then I will do the rest, but he really enjoys it. He also cleans our neighborhood sidewalks with the mower. We're known for having the cleanest sidewalks in town because of Guy."
Steve said if he had a suggestion for others who are in the early stages of learning about their child's diagnosis, it would be this, "Get to know DSC as soon as possible. Time tends to fly by in those early years because you have so much on your plate, and you're simply trying to figure things out. You don't want to try to do this on your own. If you don't have hope or people you can trust in, it's a long day. Every day that goes by, is a missed opportunity. DSC has given our family hope."
It has also helped Steve to keep an open mind. "As a guy, sometimes we don't want to try things because we think we already know how to do it, but when it comes to your child you have to at least try and learn new things to know what new and wonderful rewards may come their way. It's also about being patient with them, staying calm, and letting them keep trying and not trying to force it. The days are short. Cherish each moment and those small wins."
Happy Father's Day, Steve!
Source: http://www.refreshleadership.com/index.php/2021/05/40-employers-workers-left-caregiving-responsibilities/#more-12663