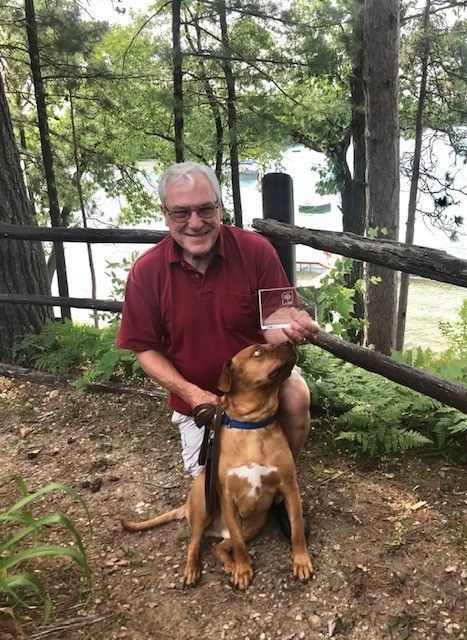 Meet Carl!
In celebration of Father's Day, we're recognizing DSC Dads and all that they do to support members of their families with developmental disabilities. Thank you Dads!!
One of those Dads is Carl Webber, the father of Wendy Webber.  Wendy has been receiving support from DSC for many years.     
Carl became familiar with DSC at the time Wendy began receiving support from DSC's Employment Services program, a program that he says "contributed greatly to Wendy's development and to her ability to maintain continuous employment in child care." 
Wendy worked in child care at the YMCA for 10 years with the help of a DSC job coach, who regularly kept in touch with Wendy's supervisor. Carl reports that Wendy's supervisor at the YMCA used to emphasize that, "If we say we support diversity, we'd better follow through and do it." He says she clearly exhibited the YMCA's open, non-discriminatory employment practices, by how she welcomed and supported Wendy.
After 10 years at the YMCA, Wendy accepted a position at Peter Pan Too/The Learning Center, where she has now worked for 6 to 7 years. Carl suggests, "I couldn't imagine a better employer than Yvette Brown. She's extraordinary with the children who attend the day care. In addition, she believes strongly in the goals of DSC and is very supportive of Wendy."
Wendy also made another big step in her independence in recent years. With assistance from her parents and support from DSC, she moved into her own apartment. With Wendy having a job, the support she receives from DSC's Community Living team revolves around Wendy's work schedule. She meets with her Community Living Specialist once a week and receives support with errands, projects and the maintenance of her household.
In addition to being Wendy's father, Carl just completed 18-years on the DSC Board, having served from 2003-2021. "When Dale Morrissey, former CEO, approached me to join the DSC board, I couldn't refuse. 18 years later, I was still there."
Carl said he's always been impressed by the way that DSC has handled substantial challenges.  "One of the biggest challenges was when the State of Illinois was in crisis and lagged behind on its payments. Danielle Matthews was the Chief Financial Officer at that time. It was no easy task, but we got through it. It took a tremendous effort from everyone at DSC, especially Danielle, Dale Morrissey and Patty Walters."
Another historical challenge during Carl's time with DSC occurred more recently. Carl was a board member during the pandemic. "The pandemic presented a real dilemma for us. We're in the people business, and DSC solves people problems with people. The complications presented by COVID were huge, but we got through it. DSC's success in handling both of these crises contribute to the confidence I have in DSC. If DSC can survive the State of Illinois budget crisis, and a pandemic, I know it will be around for a long time."
Carl also said he appreciated the effort that was made to keep the Board informed. "Each month we were presented with information on DSC programs and operations. Even though we weren't involved in the day-to-day work, these presentations helped make us aware of the work that was happening in support of the DSC mission. These presentations made it clear that the children and adults who receive DSC services in our community are very fortunate. I don't know what we would do without DSC."
In regards to fatherhood, Carl says that, "The greatest fear of a parent who has a son or daughter with a disability is wondering what will happen when he or she is no longer available to assist. This is significant to me and to my whole family."
Now that Carl has retired from the DSC board and from the practice of law, he can enjoy more time vacationing in Central Wisconsin and visiting his other children and step-children in Boston, New York, San Francisco and San Diego.
Happy Father's Day, Carl!