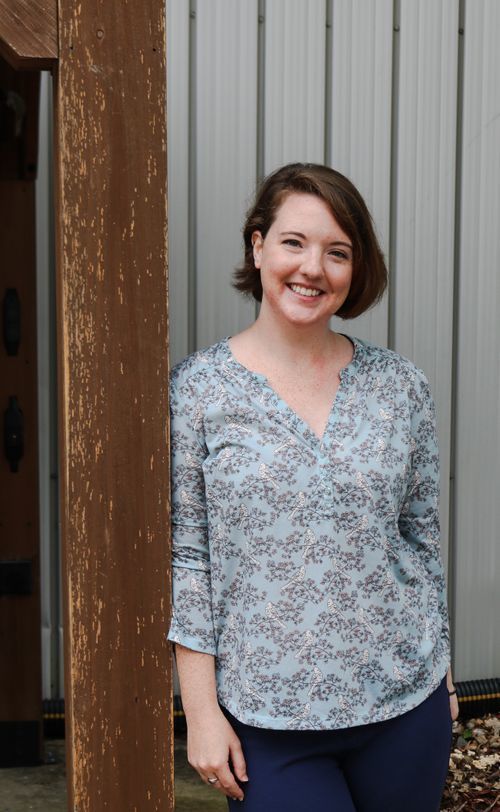 Meet Liz!
Today, as we wrap up the month of July we are highlighting one of our Employment Specialists. The dedication and daily commitment of DSC employees make the work of our mission and supports we provide to further independence possible.
Liz Hicks is a lifelong, Champaign resident who grew-up attending Champaign Unit #4 schools, and then went on to earn her master's degree in Social Work.
She began her social work career in child welfare, and later decided it wasn't for her, but wanted to continue working in the field of social work. She decided to apply for a position in Employment Services and received an opportunity to interview with the Program Director, Annette Becherer. It just so happened, that Champaign was issued a tornado warning during Liz's interview that day, and she had to stick around DSC to take shelter during the warning. "I got stuck here with Annette during my interview. I will never forget that. And I was offered the job soon thereafter," said Liz.
That was almost two years ago. Since that time, Liz has worked as an Employment Specialist for DSC. Approximately six months after she started her job, the pandemic began. Therefore, much of her experience at DSC has been during the pandemic. "The services I provide vary from person-to-person because everyone is different and because each person has unique goals, in addition to working around the circumstances due to the pandemic," explained Liz. "One person might want me to check-in on them periodically, whereas another person may want to focus on a more specific goal they'd like to achieve."
Employment Specialists also assist with practical aspects of gaining employment, starting a new job, or maintaining work, depending on where the person is at in the process of getting hired. For example, they may attend job orientation or training, to track needed information to be reviewed later, or assist with filling out new hire paperwork. The goal is always to assist the candidates in succeeding in their employment.
Prior to the pandemic beginning, Liz had the opportunity to attend the Tree of Hope Kick-Off event in person. "Living in Champaign all of these years, I obviously knew about the Tree of Hope and my family enjoyed participating by donating to light bulbs on the tree. Attending the event in person, as DSC employee brought Tree of Hope full circle for me."
Liz said having a greater understanding of the impact of the DSC mission by participating in Tree of Hope that year, and witnessing the Annual Recognition Awards personally is what inspired her to nominate Planet Fitness for Employer of the Year in 2020, and later nominate someone to be considered for the Mid-Year Appeal.
Liz is also a newly-wed. She just celebrated her one-year anniversary, after getting married during the pandemic. She loves spending time with her dog Nora. They've been doing a lot of hiking on the trails recently, and Liz is also part of a close family, whom she sees often. They enjoy swimming at her parent's pool and gathering regularly for holidays.