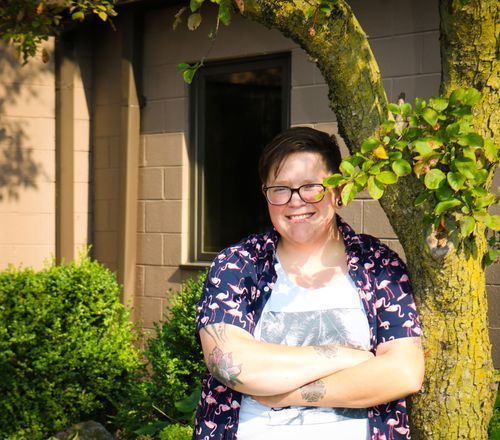 Chasity is a Residential Manager at DSC, who has been with the agency for almost 10 years. She is originally from Vandalia, IL and later relocated to Champaign when looking for a place to start a family.
Prior to her employment at DSC, Chasity worked at an agency similar to DSC for a few years, and she was also employed in the mental health field. After trying out both careers, Chasity decided she preferred working with people with intellectual and developmental disabilities and applied for a position at DSC. During her career here are DSC, Chasity has worked as a House Manager at two different CILAs (Community Integrated Living Arrangements), she's been a Health Advocate, an Employment Counselor, and now, her present role of Residential Manager.
As one of DSC's four Residential Managers, Chasity oversees three individual CILAs, where she manages the day-to-day needs of the homes, provides ongoing support for people in residential programs and attends to the scheduling of staff. "In general, we want to make sure everyone in the program has what they need. It's a fun job, and it has a million little moving parts," said Chasity. "I remember feeling like I was still learning, even after a year in the position."
When we asked Chasity what she likes most about working at DSC, she said "The people we support. Everyone is caring, and you're not going to find these kinds of relationships at every job."
One of Chasity's favorite memories at DSC occurred while working with a woman who was new to Residential Services. "She had been living in another type of home where not as much one-on-one support was offered. Her family wasn't sure if she could walk with a cane because she'd not been able to in the past, but we thought she could so we decided to try. Within two months, she was walking with the cane, and she still is today. With the one-on-one support DSC provided to her and by focusing on her individual outcome she was able to accomplish her goal. It was very rewarding to be a part of seeing her become more independent after moving into a DSC CILA. I've never forgotten that."
As a veteran in the direct support professional (DSP) field, we asked Chasity if she has any tips or advice for those who are just starting out, and here's what she had to say," I always suggest to new employees that they take the time to get to know others and build rapport. It's the most important thing you can do and it will improve the time you spend together."
When Chasity's not working, she's stays busy with her children. As a family, they go hiking and camping. Chasity is also a drummer. She also has 3 dogs, 2 cats, 2 snakes and a turtle.