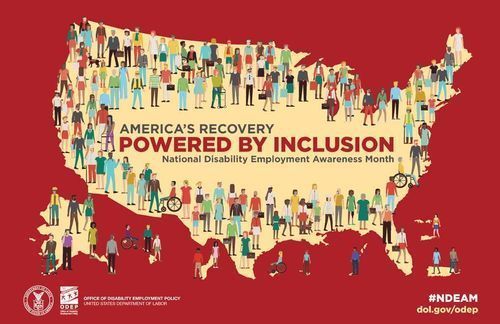 Meet Employment Services!
With the arrival of October, we are recognizing NDEAM (National Disability Employment Awareness Month). NDEAM is held each October to commemorate the wide variety of contributions from people with disabilities to America's workplaces and economy. The theme for NDEAM 2021, "America's Recovery: Powered by Inclusion," reflects the importance of ensuring that people with disabilities have full access to employment and community involvement, as we continue to recover from the COVID-19 pandemic.
DSC's Employment Services equips adults with intellectual and developmental disabilities with skills they need to find and maintain gainful employment. One of the overarching goals, is to ensure people with disabilities find jobs with competitive wages, meaning no less than minimum wage.
The Employment Services program encompasses a broad range of services and programming, including both securing and maintaining a job. The support received and needed for success, varies greatly from person to person. Employment Services offers supports for employment, as well as skills training, volunteer opportunities, job exploration, and community employment to promote independence, economic self-sufficiency, and personal satisfaction. Opportunities are customized for each person's individual interests, as well as their unique talents and abilities.
Employment Specialists work individually with people seeking employment and employers in Champaign County. Their role is to find appropriate job matches for the candidate and employers, using a variety of tools, including the Discovery process. Employment Specialists, receive 40 hours of DSP (Direct Support Professional) training, in addition to Marc Gold, Griffin-Hammis Customized Employment training, and other training directly related to disability-employment.
Also housed within DSC's Employment Services Program, is LEAP, a collaboration with Community Choices. Funded by the Champaign County Developmental Disabilities Board, LEAP (Leaders in Employing All People), is a training opportunity for businesses to learn about the benefits of disability employment, and the services available to them and their employees through local agencies like DSC.
DSC has established relationships with many employers throughout the community. We applaud their desire to employ people with disabilities.
If you are a local employer interested in Employment Services, you can learn more on our website: https://www.dsc-illinois.org/employer-education-support/
For more information about DSC services, please contact Vicki Tolf at vtolf@dsc-illinois.org or (217) 356-9176.