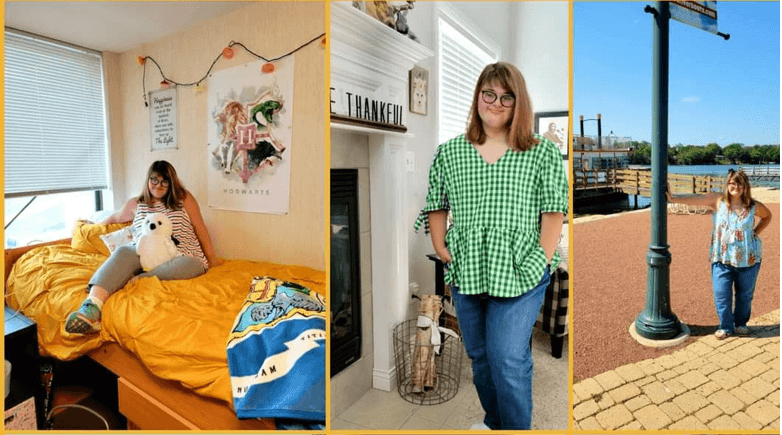 October is National Down Syndrome Awareness Month, a time devoted to celebrating the abilities and talents of people with Down syndrome each year.
Down syndrome is a genetic condition that is usually caused by an extra copy of the twenty-first chromosome. According to current data, about 250,0001 people in the United States have Down syndrome. Studies show that about 1 in 800 babies are born with Down syndrome2, and the chance of having a baby with the genetic condition increases with the age of the expectant mother. Down syndrome does not typically run in families and is not caused by anything either parent did or did not do.
Kelly Jane Griffin was born in March 1998. We featured her family as the Tree of Hope Spokesfamily in 2001. Kelly's mom, Gayle remembers all too well that time in her life when Kelly was diagnosed with Down syndrome. After Kelly had spent time in NICU, they were referred by a friend to DSC. She received occupational therapy, speech therapy and play therapy through DSC. "It was a life saver for us at the time. We would look forward to the in-home visits when Kelly was young. The services we received then were integral with her starting school. For me, as her mother, it helped me to understand the importance of advocacy on my part and how important it was going to be to teach Kelly self-advocacy, as she got older."
"The defining moment for me was when I decided that Kelly's diagnosis was not going to define us. I had to decide, 'This is my daughter and the diagnosis of Down syndrome is secondary.' DSC gave me the support to do that. They showed me the way to show other people the way, as Kelly began her school years. There were definitely hard times, but making the decision and having the resolve to do that and being an advocate made it less scary for me," said Gayle.
Fast forward to 2021, Kelly lives a life of independence. After volunteering, and working at her local school, and experiencing many proud moments such as singing "Tomorrow" from Annie in front of 250 people, today Kelly is part of the RISE program at Judson University. Kelly lives in a dorm, and is taking courses on campus. She is learning guitar, and working an internship at a local Christian, school care program. Kelly's Mom, Gayle said, "Kelly's living her best life now! I want parents to know, 'The sky's the limit!"
DSC offers Early Intervention, Individual/Family Support, Employment Services, Case Management, Community Living Programs, Community Day Services, Therapeutic Support, and more to assist people with Down syndrome and their family members.
For more information about DSC services, please contact Vickie Tolf at vtolf@dsc-illinois.org or (217) 356-9176.
Sources:
https://www.ndss.org/about-down-syndrome/down-syndrome/
https://www.dph.illinois.gov/topics-services/life-stages-populations/genomics/down-syndrome