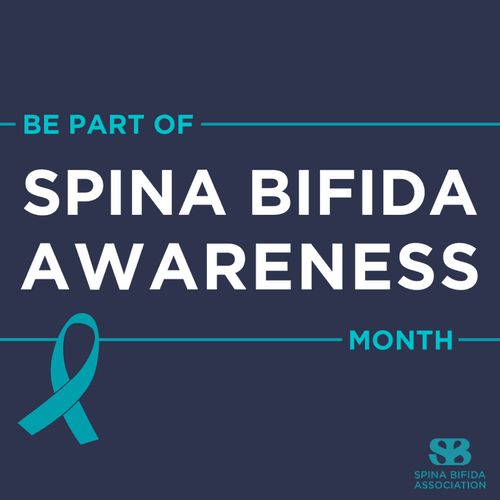 October is National Spina Bifada Awareness Month. Over 166,000 Americans are affected by Spina Bifada, and according to the Illinois Spina Bifada Association, approximately 3,700 people with Spina Bifida live in Illinois. Spina Bifada impacts children and adults who receive supports from DSC, as well as the friends and family members who love them.
FACT: Spina Bifada is the most common, permanently disabling birth defect.
What is it? Spina Bifada is a condition of the spine. The word Spina Bifada literally means, split spine. It is usually apparent at birth. It is one type of neural birth defect (NBD). When the neural tube doesn't close, Spina Bifada can occur at any place along the spine. When the neural tube doesn't completely close, the backbone protecting the spinal cord doesn't form, and close properly. This may result in damage to the spinal cord and nerves.
Spina Bifida might cause physical and intellectual disabilities that range from mild to severe. The severity depends on a few factors, including the size and location of the opening in the spine, and if part of the spinal cord and nerves are affected. Because the spine affects many aspects of the human body, when a child is born with Spina Bifada, many areas of their functionality and mobility may also be affected.
Receiving a Spina Bifada diagnosis can initially feel devastating for parents. However, there are many resources and experienced professionals who are available to help, including a team of developmental therapists at DSC, and a community of families who are all here to support you. "It is difficult, and often overwhelming, knowing how much our little girl will struggle throughout her life. Nothing will ever come easy for her," said Bryan and Ciara Freres, who were DSC's 2020 Tree of Hope family, and who have a daughter with a rare form of Spina Bifada, called myelomeningocele. "Charlotte is a happy little warrior, and with the help of DSC and professionals like Barb Hoffman, a Licensed Speech Pathologist at DSC, Charlotte is progressing and gaining more access to the world around her each day. Knowing the struggle that preceded it, we celebrate even the smallest of Charlotte's victories. In helping Charlotte's progress, DSC has given us many reasons to celebrate."
DSC offers many different types of therapeutic supports to children in our community. If you would like to learn more about these services please contact our Family Development Director, Nicole Smith at (217) 356-9176.
To read more Meet Me on Monday stories visit: https://bit.ly/1RUdyrs 
Sources: