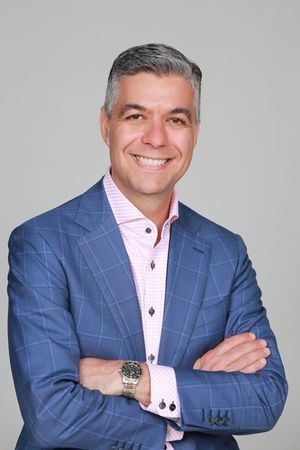 Meet Ata!
Ata Durukan is the Senior Vice-President of Human Resources and Marketing at First Federal Savings Bank of Champaign-Urbana. A Champaign native, Ata started with the bank while in high school as a part-time teller and has been with the bank for 33 years.
In July of 2021, Ata became the DSC Board Chair. He initially joined the DSC board in 2018, after connecting with DSC leadership. Ata has also attended LEAP training, after reading about it in the DSC newsletter.  "Every interaction that I've had with DSC has been positive and intentional, from the job coaches who are committed and caring, to the LEAP training," said Ata.
"I went on tours of the locations at DSC. I became aware of things that I didn't previously have knowledge of and recognized the impact that DSC is making on the community. When I joined the board, I realized that there is more of this story to be told, and this is something I want to be a part of."
Now, as the Board Chair, Ata said he's still learning. "This is such a wonderful organization to be a part of in our community. When you go into other communities, you realize it's not as common to have an organization like DSC. It's really a wealth of resources, which is fantastic."
When we asked Ata about his vision for the future, he said he hopes to continue the tradition of those who have led before him. "Following in Mark Waldoff's footsteps, who set the tone coming before me, and of course Connie Walsh's before that, I hope to continue the wonderful leadership standards they've set for the organization. This year, Danielle Matthews, DSC CEO has done an outstanding job leading through these tumultuous times."
Most of us have experienced 2020 as a challenging year, and we all thought that would likely be the worst of it, then 2021 arrived, and it's been just as challenging, if not more so. "I've been so amazed as the Board Chair. As the Board of Directors of DSC, we get to support the leadership and employees. It's been so impressive to see the staff's commitment during these times. That's what I'm most pleased about. All employers attempt to attract and retain dedicated, and hardworking employees, but seeing how DSC has come through this has really come full circle for me."
Though DSC needed to make adjustments to events this year, we were fortunate to hold the Tree of Hope Kick-Off event in person. "Being back in-person for the Tree of Hope Kick-Off this year was really special for me. Meeting the Spokesfamily was a great moment. It gives me hope going into 2022, ending the year on such a positive note. I've also been amazed at the number of local businesses who support DSC through the Tree of Hope campaign, and throughout the year. With the broad reach DSC has, I think it's exactly what local businesses are looking for with their return on investment, and it makes a huge difference."
Outside of his work at First Federal, and volunteerism at DSC, Ata is married to wife, Amy, and they have a daughter Erin, who is attending school at Indiana University. He's adjusting to being an empty-nester, enjoys cooking for friends and family, and likes spending time outdoors.