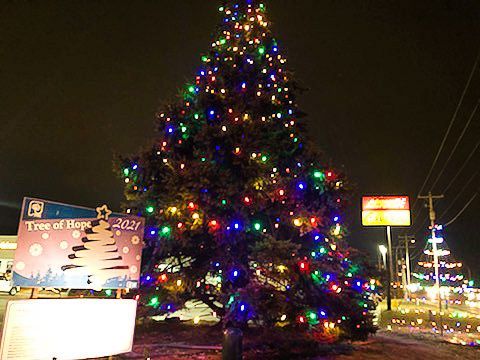 It's hard to believe that it was only a short time ago that we kicked-off the holiday season by introducing you to the 2021 Tree of Hope Spokesfamily, little Maddon, his brother Lawson and his parents, Seth and Megan Herrig. Now, here we are one month into 2022!
Throughout this 28th year of the Tree of Hope campaign we had the opportunity to hear the story of the Spokesfamily, in addition to recognizing and celebrating the accomplishments of our annual award winners, including, Employer of the Year-Colony Square Cleaners, Special Recognition Award Winners-Dottie Fanning, and Sam's Club of Champaign, and Personal Achievement Award Winner-Daniel Krein.
Maddon's mom, Megan Herrig had this to say about their family's involvement with the campaign, "It's been an honor, and a privilege to be the Tree of Hope Spokesfamily this year. We've loved telling the story of how DSC has changed not only Maddon's life, but our entire family's lives as well. The amazing therapists and resources that became available to us through DSC have given us the key to unlocking the treasures that were hiding inside our Maddon's brain. We are forever grateful to DSC, and feel very blessed to be able to sing DSC's praises to anyone who will listen, for years and years to come." 
We would also like to take this opportunity to thank the Herrig family for their commitment to the campaign. It is with pleasure that we can share the good news that we have exceeded our goal of $185,000 and raised over $243,000! "We are thrilled to announce that we've exceeded our campaign goal, and we are grateful to the Herrig family, for sharing their story on behalf of DSC, and to all who donated." said DSC Chief Executive Officer, Danielle Matthews.  
"DSC and the Board are so pleased with the community's support of the Tree of Hope Campaign. This year's goal was increased to $185,000 over last year's goal of $175,000. Although these are unprecedented times, the board, and I had confidence that we could reach the goal. This community always comes together and supports DSC and their mission." said DSC Tree of Hope Committee Chair, Zach Wetherell.
Donations from the Tree of Hope directly impact our programs and services allowing DSC to continue providing supports for more than 1,100 children and adults with intellectual and/or developmental disabilities. Every gift given helps light the Tree of Hope, located on the corner of Prospect Avenue and Marketview Drive in Champaign. The lights represent the services DSC provides. Each time a bulb is lit, it signifies $50 in contributions to the campaign, thus, allowing DSC to provide the resources and services vital to a brighter future for individuals with developmental and/or intellectual disabilities and their families.
Thank you, Herrig Family and to all of our sponsors, donors and community partners for helping us light the tree this year and continue the DSC mission!