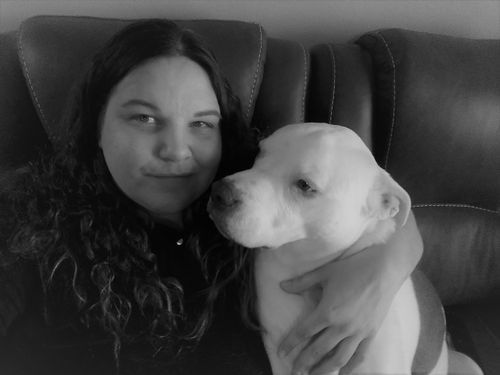 Meet Kelly!
Kelly Tull has been a Case Coordinator/QIDP (Qualified Intellectual Disabilities Professional) at DSC for about three and a half years. She came to DSC with eight years of experience working for another organization, where she worked in their residential program and was also a QIDP.  Kelly met several DSC employees and people receiving services, which eventually led to her joining the DSC team.
Kelly has a Master's Degree in Social Work from the University of Illinois, and also studied Spanish in her undergrad coursework. "I thought I wanted to teach Spanish, but later discovered working with people with disabilities was what I was meant to do. I've been working in residential group homes off and on since 1999," said Kelly.
As a Case Coordinator/QIDP, Kelly supports approximately 50 people. This includes people who live in residential homes, those living on their own, or with their family. Within DSC, she is a facilitator for the people she supports, and the other staff at DSC who work alongside the individuals. Supporting people to accomplish their desired outcomes/personal goals and monitoring services to ensure we are following state and county regulations are primary functions of her position. "No day is ever the same," said Kelly. "One day we're taking someone to a doctor visit, the next we might be intervening in a crisis, getting a release signed, or assisting with completing paperwork for benefits."
One of the advantages of having a Case Coordinator like Kelly, is you have a team leader. "You're not in this alone. Assisting families with benefits, and the associated paperwork is just one example of how we help. We do a lot of paperwork, and if we send out a packet to a family, I'm going to highlight everything and note important areas in the documents for you with a post-it note because this is what I do every day. I'm here to walk you through the process."
In addition to working as a Case Coordinator, Kelly also picks-up extra shifts working in the residential program. (Thank you, Kelly!) "I miss being in the homes and love the one-on-one time with the individuals. I enjoy talking to them about their day-to-day lives while making breakfast together."
Kelly says she enjoys her job at DSC because of the team she's a part of. "We have a great team here. I've worked in other organizations, where we were on call 24/7. At DSC, we have a more balanced rotation, where everyone pitches in. We also have fun here." Kelly is the Birthday Chair for her Department, and also serves on the POMs (Personal Outcome Measures) Committee, which is part of DSC's ongoing commitment to CQL (The Council on Quality and Leadership) accreditation.
When Kelly is not working, she volunteers with Hospice Hearts Animal Rescue, loves playing Spades, and has fun shopping at Bargain Bins. She also has two big dogs, and a cat.
Thank you, Kelly for the great work you do!