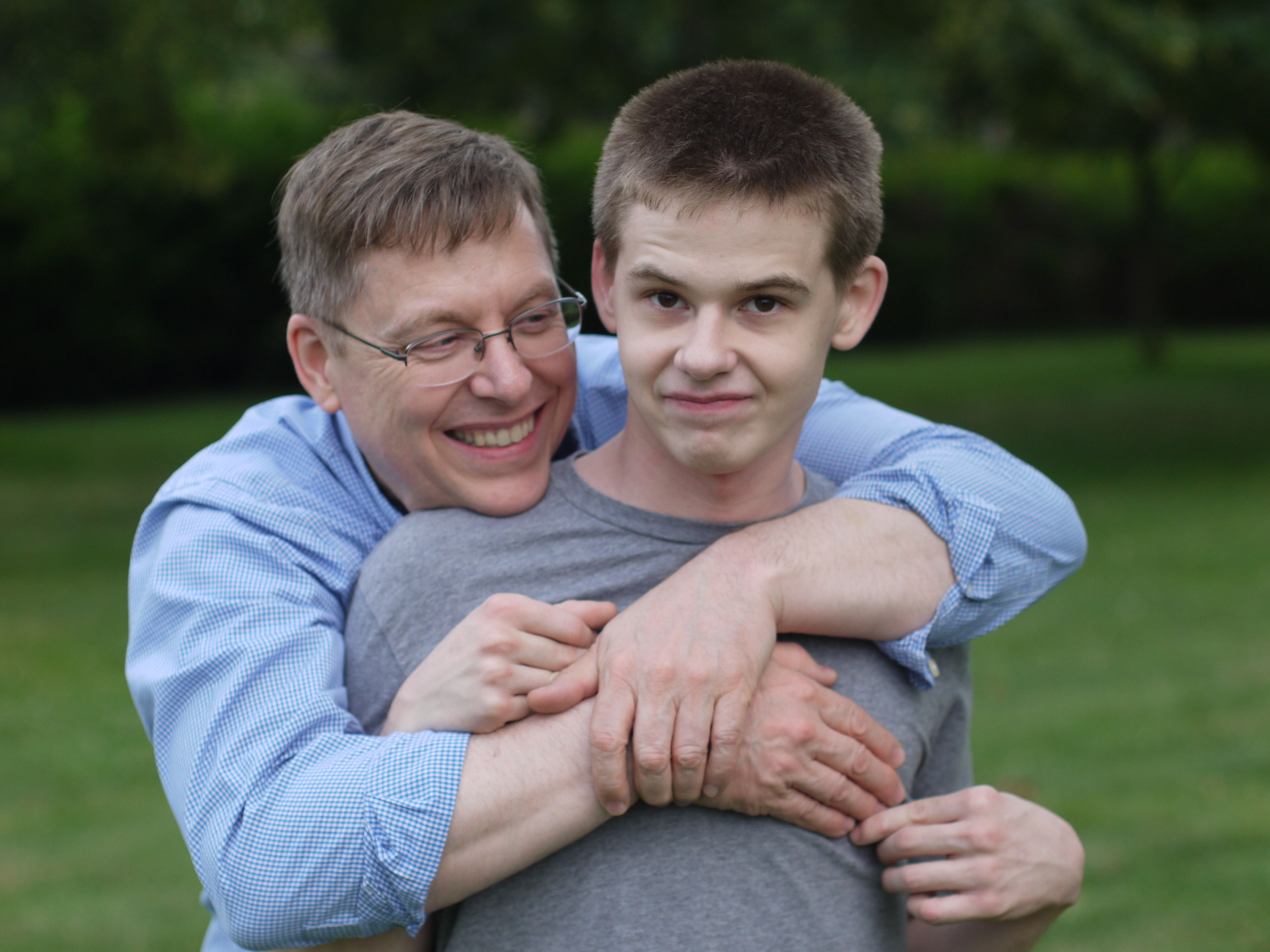 Meet Paul!
In celebration of Father's Day, we are recognizing DSC Dads and all that they do to support members of their families with developmental disabilities. Thank you Dads!
Paul McNabb is the father of five children, including Stewart who receives services from DSC. Stewart, who is now thirty-one years old, has autism. For the McNabb family, the path to discovering his diagnosis and support has not always been easy.
The youngest of their five children, Stewart had reached all of the same developmental milestones as their four other children, up until around sixteen months. He could speak; he could hand you blocks, and address Paul and his wife Nancy by saying mama, and dada. Then, one day, without warning, everything stopped.
Stewart would spin toys and stare at them. He loved to throw dirt and other items at the wall. At the time, Paul was traveling for his work, and visited a large bookstore, where he stumbled across a book about autism. The book resonated so much with Paul, that he called Nancy. "I read about autism, and I think this is what we might be facing."
They got Stewart in to see the doctor. "Does he have autism?" Paul and Nancy inquired of the doctors, only to discover that many doctors during that time believed that the parents caused autism. "In those days, many people, including doctors, believed that autism was caused by being overly cold or emotionally distant to your children. The medical profession thought the parents were to blame, especially the mother."
Paul said he and Nancy tried everything they could think of to help Stewart. "We tried therapies, and an intensive in-home support worker who would come in for 10-40 hours a week and work with Stewart, and it was amazing. Then, he went to school, where they had classroom aides."
Following Stewart's transition out of the high school Young Adult Program, he began receiving services with DSC. "Stewart has really enjoyed being involved in programs at DSC. Because of his autism, he needs repetitive stimulation, activities, and entertainment. This is one of the reasons why we appreciate DSC so much," said Paul.
One of Paul's favorite memories was when they made a request of Stewart, and he was able to follow their instructions. "We asked him to go upstairs and get something, and he did! It was a simple, two-part request and when he was able to accomplish the task, it felt wonderful. When your child has autism, those instances remind you, 'Hey, my son is still there! And it feels so good."
Paul, who is recently retired from working in the cyber security field, said that he enjoys being a dad very much. He is active with his local church, where he volunteers working with a group of children, and previously traveled and did regularly speaking and teaching. "I feel very blessed. Despite many challenging medical circumstances with our children and even the loss of our daughter Emma, who was born with physical disabilities, and died when she was almost 22-months old, I feel joy, and I love Stewart, and our family."
The McNabbs enjoy reading, being at home together, attending church activities, and serving others through volunteerism. Both Paul and his wife are musicians and vocalists.
Happy Father's Day, Paul! We appreciate all you do as a dad!
Read more DSC stories at: https://bit.ly/2Usib1z