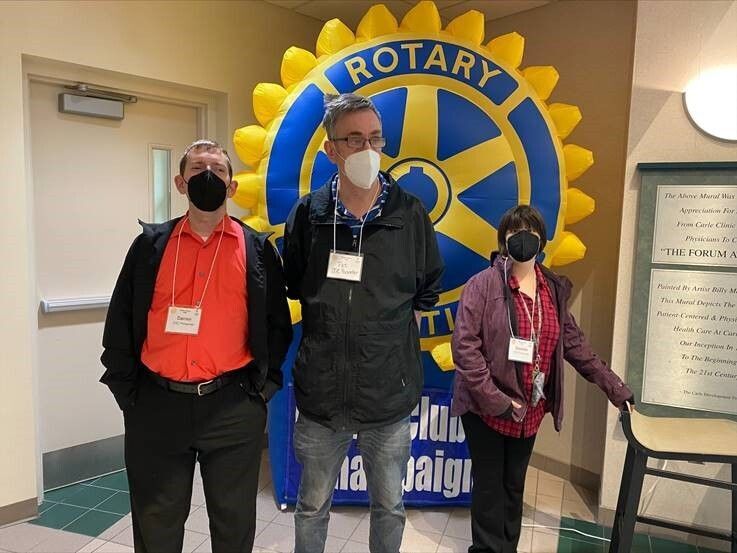 MMOM 7-18-22
Our Nation's Independence Day encourages us to reflect on the importance of our individual freedom and inde­pendence. Join us in Celebrating 50 Years of Independence!
Meet ACLT (Advocacy Community Leaders Team)!
The Advocacy Community Leaders Team (ACLT) is a group of people who advocate on behalf of themselves and other people with intellectual and developmental disabilities. Kim Taylor, Supported Employment Specialist at DSC works with the group, and acts as a sounding board for the team, as they discuss potential topics, and finalize their presentations. The team has made several presentations to community and civic organizations this year. The presentations focus on using respectful language and how to be more inclusive to people with disabilities.
Earlier this year, they attended the City of Champaign's Coffee with a Cop. The opportunity to visit with local law enforcement is open to the public and gave the advocates a chance to voice concerns they had. ACLT team members, Danielle Washington and Darren Wolken explained to the officer their shared fear that police will not know how to respond to emergencies involving people who have intellectual and developmental disabilities. They appreciated the officer's willingness to have a dialogue with them and to take ideas to his leadership.
In April, ACLT presented at the 2022 Arc of IL State Convention, which took place over Zoom. The Arc of Illinois is a statewide organization that advocates for individuals with intellectual and developmental disabilities. The group presented in front of other disability service providers and their staff, and talked about their ideas for continuous improvements, such as including advocates in the hiring and interview process.
Kim said that one of the most fulfilling days of her career here at DSC, has been following a presentation they made at Champaign District Rotary Meeting. Approximately 60 people attended the presentation at The Carle Forum in Urbana, and the advocates spoke about inclusion and advocacy.
The group has also presented to the Special Education class at St. Joseph Ogden High School, where they talked about what it was like for them to transition from high school to adulthood, and what challenges they faced along the way. Students in the classroom provided meaningful feedback, and expressed that the presentation gave them hope for their futures.
If you are interested in joining ACLT or having them present to your group or organization, please contact Kim Taylor at ktaylor@dsc-illinois.org or (217) 356-9176.
Read more DSC stories at: https://bit.ly/2Usib1z