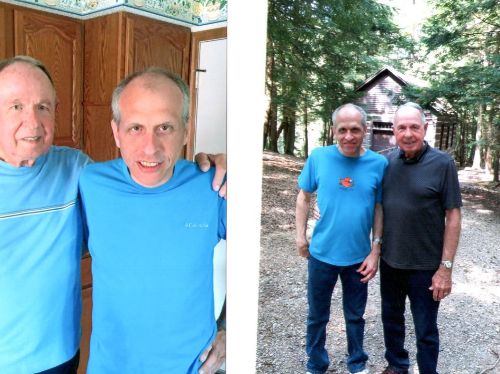 50th Friday! Celebrating Independence!
2022 marks DSC's 50th Anniversary as an organization. We invite you to join us throughout the upcoming year, as we celebrate this significant milestone in our journey, share stories, and honor so many of you who have supported us along the way.
Jerry is the father of two, a son and a daughter. His son, Philip is a 59-year old who receives services from DSC. Philip was born six weeks premature. At one year old, we knew he was showing signs of disabilities. "When he was three and a half, you could look at him, and you would never know. He has always been a good-looking guy, but you could tell he didn't comprehend everything," said Jerry.
Philip attended Marquette School, a school in the area for people with disabilities. He continued at Marquette until he was 18, then he came to DSC. Not long after, Philip's mother, Shirley passed away. This prompted Jerry to move forward with helping Philip become more independent, something Shirley had been working on. She wanted him to be able to live independently in a group home. At the age of 22, Philip moved into a DCS group home.
Jerry served two, three-year terms on DSC's board in the late 1990s. One of Jerry's fondest memories at DSC dates back to serving on the Board of Directors. "Serving on the Board gave me an inside look at the organization instead of being on the outside looking in. Those were good times. I enjoyed being an advocate for DSC and speaking to community service clubs on behalf of DSC. It was also a great joy for me to see the DSC Foundation get started." Jerry also served on the C-U Prairie Homes Board, and actively volunteered as a Board member by selling tickets for events, assisting with the Golf Outing, and serving on the Tree of Hope Committee. "
Jerry later remarried and they are both actively involved in Philip's life. "We love DSC. I praise DSC very highly for a number of reasons. They have done so much for my son. They have helped him do things that I would not have been able to do for him myself. When they live at home, you do everything for them. At DSC, they teach him to be independent. He has learned to make his bed, and do things for himself. Because of DSC, he has advanced to a new level. My son is doing work that we thought he might never be able to do and he has such a positive, upbeat manner."
As a parent who has been a part of DSC's community for many years, "People will ask me questions when they see me around town. My response is always, 'You need to get a hold of DSC, right away. It happened just the other day, someone contacted me, and I told them, 'Call DSC, and they will be able to help you.' I can't think of what will be more important for families like ours, as we look ahead to the future. The services that DSC offers must continue to be available for individuals and families for the next 50 years."
Thank you, Jerry, for your commitment to DSC and for being a part of our journey to 50 Years of Celebrating Independence!