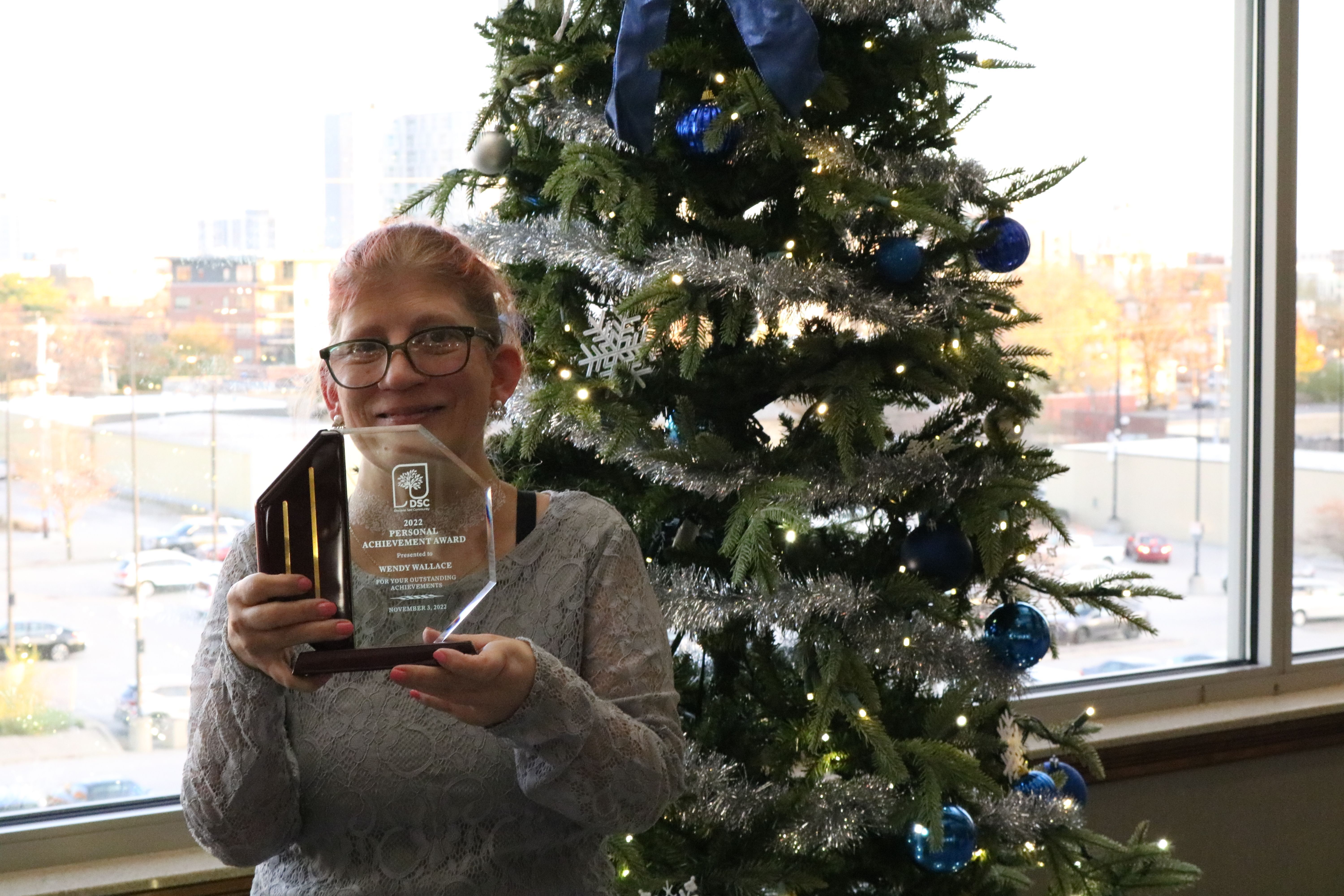 For the past 36 years, DSC has given out recognition awards to deserving individuals and organizations in our community who are committed to our mission and who are committed to being inclusive employers. We also give out a very special award to an individual recognizing their outstanding personal achievements. This year, DSC is thrilled to honor Wendy Wallace as the 2022 Personal Achievement Award winner!
With the help of DSC's Employment Services Program, Wendy began working at Carle Foundation Hospital through a contract DSC has with Carle in 2007. Wendy enjoyed working at Carle and soon had a goal in mind and that was to become a Carle employee. She worked in the dish room and later became a cafeteria attendant until COVID. During COVID, Carle decided to remodel their cafeteria, they continued to serve meals during this time. Wendy started working as a runner between the kitchen and the food pick-up area, she began to package meals and served them to customers. She got to know many customers by name.
Kevin Steffes, Food Service Director at Carle says, "Wendy came out of her shell during the pandemic, I'm not sure that would have happened otherwise." Once the café reopened Kevin offered her a job at Carle. Wendy has very excited about this opportunity. Ellen Maxey, DSCs Community Employment Manager says, "When she officially became a Carle employee she shared the news with me with tears in her eye. She told me, "This is what I have been working towards for 12 years!" Having her work recognized made us all cheer!"
Tutti Selimi, Food Service Retail Operations Manager at Carle says, "Wendy is dependable, always willing to be flexible with what she does or when she comes in. She tries her best to do a great job and serve the customers as best as she can. She is willing to learn anything you show her and has the desire to do more. She works well with other team members and always strives to please me with the job she does. She comes up with ideas and solutions when she sees there may be an issue or something we could do better. She is funny and sweet and I am so glad to have her on my team.
Wendy has not only achieved her employment goals. She has also accomplished many other personal goals. Wendy lives in her own apartment and does everything on her own with a little help from her Aunt Sharon.
Wendy was, "speechless" when she learned she was this year's award recipient. She says she has, "The best bosses she could ask for." She would also like to thank her Aunt Sharon, "She has been her rock and has helped her so much."
Congratulations, Wendy on your outstanding achievements! You are a shining role model of how DSC fulfills our mission to support people in living a rich and meaningful life, and we are so proud of you!