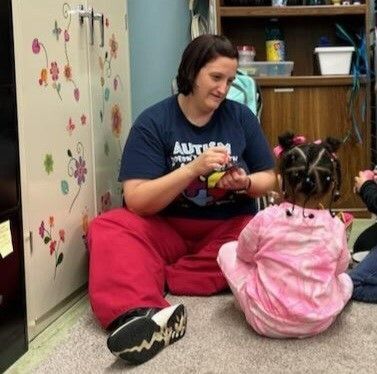 Nichole Kitchens is one of DSC's four Developmental Therapists. In her role as a Developmental Therapist, she looks at the development of the whole child. An Early Intervention Individualized Family Service Plan (IFSP) is created for each child based on the goals and needs of the family. Using the IFSP as a guideline, Nichole works with the families to create short-term goals to be worked on each week. With these goals in mind, she coaches the caregiver(s), whether it be the family or childcare providers, through strategies and techniques that utilize the materials they have on-hand within their natural environment. Sometimes the sessions are helping the caregiver work through difficult routines, like meal times. She also works with children and families who need additional support during their transition into the school district.
Shortly after Nichole joined DSC in September 2021, she started working with this year's Tree of Hope Spokesfamily. Both Caleb and Cali are fairly non-verbal, so she has provided therapies and strategies for both to help improve their communication, as well as potty training, meeting their sensory needs, and flexibility in play. Nichole has also assisted their mother, Amber with obtaining various resources within the community, including an evaluation and diagnosis of Autism for Caleb, scholarships for the family to use the YMCA, and information for various Applied Behavior Analysis (ABA) programs in Champaign-Urbana. Nichole has been a listening ear and a cheerleader for Amber as she processes difficult situations and celebrates the little things that make motherhood rewarding.
Nichole, along with Bobbie Webb (DSC's Developmental Screening Specialist), hosts two weekly Playgroups. These Playgroups are for children within Champaign County who have developmental delays or other disabilities. It is a play-based group time for up to six children and their caregiver(s) to socialize with peers and learn new skills. Caleb and Cali began participating in the Playgroup sessions almost a year ago. Since then, both children have improved their social play skills, and Amber has made some great connections—sharing stories, advice, and ideas with other parents.
Nichole was recently selected to serve on the Birth to Five Illinois' Region 9 (covering Champaign & Ford counties) Action Council. Birth to Five Action Councils are tasked with identifying service needs in each region. Information gathered by these councils is provided to the state and local governments in hopes of informing policy, including funding, around birth-to-five programs over the next decade and beyond.
Nicole Smith, Director of DSC's Family Development Program shares, "Nichole never stops trying to learn; her background as a Head Start teacher and connector is evident. She is amazing and very knowledgeable. She has a very calm, welcoming demeanor, which helps families feel at ease. She goes above and beyond in her job and for families and is a strong parent coach." We sure are grateful to have Nichole as a part of our DSC Family.
To learn more about Developmental Therapy or our Family Development Program, contact Nicole Smith, Director of Family Development at (217) 356-9176 or nsmith@dsc-illinois.org.