The Hayn Family
Meet Garrett, a tender-hearted and fun-loving, four-year old who loves playing outdoors, the water, is musically-inclined and adores his grandparents.
Garrett was born in August 2015. After experiencing a difficult season of struggling with infertility and miscarriages, becoming pregnant with Garrett was a miracle for us.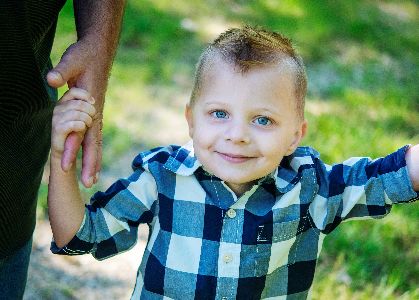 Though monitored throughout my pregnancy, I required an emergency C-section at 36-weeks due to preeclampsia. Garrett was born with Intrauterine Growth Restriction, a true knot in his cord and the cord was wrapped around his neck. Despite the early challenges we faced, as new parents, we were overjoyed as we welcomed little Garrett Hayn into the world. Garrett spent his first 13 days in the NICU and required tube feedings. When Garrett was able to come home, it was a dream come true and together, we were able to begin living life as a family of three. 
Early on, we noticed that Garrett was not making eye contact with us and was delayed in meeting many of the milestones that the parenting books indicated he should be meeting. As you can imagine, as his parents, we were afraid of what this meant. We discussed our concerns at each well baby visit, but it was not until Garrett went through a regression from 15-18 months and lost skills that he had previously acquired, that our concerns were validated. We were referred to a developmental pediatrician and at 21-months old, Garrett was diagnosed with Autism Spectrum Disorder. 
When we received Garrett's diagnosis, we were not surprised and even somewhat relieved. Though we felt sad about the diagnosis, we finally had the information we needed to move forward. It was empowering to be able to take action and do something about what our family had been experiencing. From there, we were connected with DSC and finally able to receive the services we needed for Garrett. We jumped right in working with a DSC Developmental Therapist and then we were introduced to Early Intervention. The therapist from DSC was at our house every week - she felt like family and she was our lifeline.
Beyond providing developmental therapy, the therapist helped us navigate the system, which isn't always easy when you're a parent of a child with a disability and your plate is already so full. Our journey began with P.L.A.Y. Project and then we added developmental therapy, as well as speech, feeding, physical and occupational therapies. Throughout it all, our DSC Developmental Therapist was our rock. Garrett responded to her immediately. She had a heartwarming bond with him. Her investment was always with Garrett, all the while she was also providing support to us as Garrett's family.
We were beginning to see progress. Garrett is non-verbal, so it is hard to see at times, but there were indicators. We could tell him that his therapist was coming and he used to watch out the window for her to arrive. He understood our communication to him which was a priceless gift.
Despite our past problems with infertility, we were soon surprised to learn that we were expecting another child.  Little Everly completed our family in August 2016 and brought a world of change into our lives when she was born.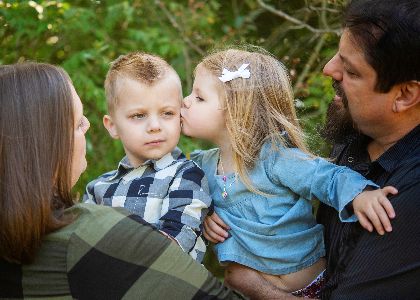 At the time, I was a stay-at-home mom juggling all the appointments for Garrett and caring for our new daughter. During Garrett's appointments, our DSC therapist grew concerned about Everly's development, and felt we needed more help. DSC stepped in, yet again, by screening Everly to see if her delays were real or just the result of her imitation of Garrett.
Through the screening, it was determined that Everly did have some delays, so a different therapist from DSC began working with her to address them. DSC really came through for us - again.  The therapy Everly received, in addition to attending Playgroup, proved critical for Everly's development. Through Playgroup activities, DSC therapists demonstrated key skills, including socialization, modeling and interacting with other children. This experience not only helped Everly, it also helped Garrett, who was able to attend sessions over the summer with his sister. We realized how vital these services were to our whole family.
We trusted our gut instinct that Garrett needed something more – something we could not figure out, but we knew he needed more help. As a baby, Garrett was difficult to console. We called it colic then, but now we know it is sensory related, or over stimulation. Even back then, it was hard; we would have to take him outside to help him calm and reset. We did not realize that something in our home was over stimulating him. Together, with much support and education from DSC, we now know how to help Garrett and support him during times when he becomes overstimulated. Today, Garrett loves attending school and is eager to return each day. He is such a sweet and affectionate boy!
DSC offers services for children and adults with developmental/intellectual disabilities and delays. Before we began our journey as a family, we did not know about the services provided by DSC and what a community resource they are for so many families in Champaign and Ford counties! We feel fortunate for the opportunity to have received services for Garrett and Everly and want others to know what an amazing resource DSC is to our community! Join us in donating to the 2019 Tree of Hope Campaign.
Please help light the way for our family and many others by making your Tree of Hope donation today!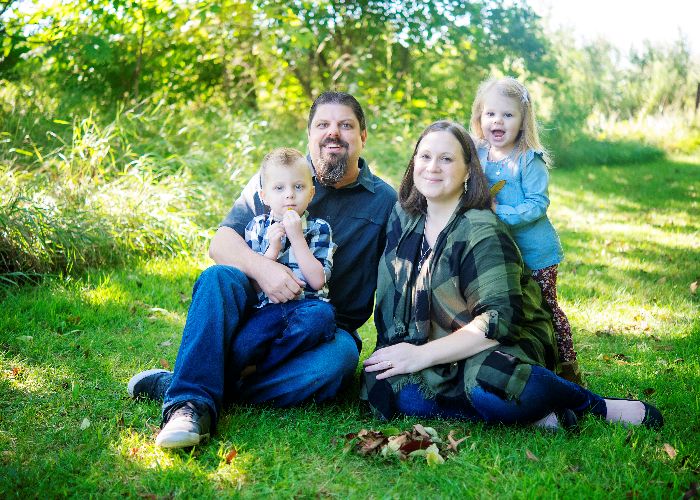 ---
Award Recognition Ceremony
Every year, DSC like to give out awards for people and businesses in the community who have gone above and beyond with working with DSC and the people we serve. Below are this years winners:
Employer of the Year:   Best Western Paradise Inn
In recognition of your commitment to employ people with disabilities.
Special Recognition Award:   Slumberland Furniture
In recognition of your commitment to DSC's mission.
Special Recognition Award:   The Boat Drunks
In recognition of your years of commitment to DSC.
Personal Achievement Award:   Mr. Darrin Chatman
For your outstanding achievements.
---
In addition to our Sponsor Family, we also brought back one family that had previously been the Tree of Hope Sponsor Family and received services from DSC: the Hoerner family in 2003. With the help of our corporate sponsor, Ameren, we were able to bring their story to everyone. Thank you to Ameren for their continued support.

---
Thank You Sponsors
Without the support of our sponsors, the Tree of Hope would not be the success we have come to truly appreciate and value! The sponsors for the Tree of Hope Campaign, completely underwrite the cost of the campaign, allowing every donated dollar to go directly to services and supports for the individuals and families in our community.
DSC Corporate Sponsors take their commitment one step higher. As a result of the level of their sponsorship donation, they have pledged to become a partner with DSC in helping us fulfill our mission. These companies and/or foundations will be recognized at every DSC fundraiser as they truly are our partners. 
Corporate Sponsors
Level I Sponsors
In addition to the Level I sponsors, we also value each and every sponsor who supports the Tree of Hope campaign.
Level II Sponsors include: American Dowell Sign Company, First Federal Savings Bank of Champaign-Urbana, Horizon Hobby, LLC, Reynold's Towing Services and Roger & Jane Webber.
Level III Sponsors include: Christie Foundation, Commerce Bank, Cozad Asset Management, Inc., Down Syndrome Network, Edward Jones Walt Ruesch, Farm Credit Illinois, Greater Champaign County AMBUCS, Kevin & Nancy Sullivan, Sweet Pea Photography, and TSM Ventures, Inc.
Level IV Sponsors include: Advance Auto Parts, Bank of Rantoul, Body N' Sole, Calvin Jordan, CMI, Darcy & Hannah Meents, Hickory Point Bank & Trust, Hudson Drug & Hallmark Shop, Lynn Ryle, Northwestern Mutual, The McClure Financial Group, Peter B's Automotive, Upclose Marketing & Printing, and USI Insurance Services.