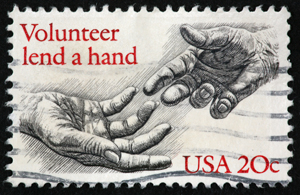 Volunteers are integral to our organization and serve in many different capacities throughout DSC. Below you will find a list of volunteer opportunities that are typically available.
To sign up to Volunteer for the Christie Clinic Illinois Marathon, please follow the instructions below:
**Works best with Google Chrome
  Go to http://illinoismarathon.volunteerlocal.com/volunteer/?start_over&id=9553  and enter "DSC" into the password box, press SUBMIT, then scroll down to find: (1) 5K Start Line Corral Team DSC (Friday night) and/or (2) Start Line Corral Team –DSC (Saturday morning)
Click on the click box to the left of the time slot under the date you would like to work
Scroll down and enter volunteer personal information (email address, first and last name, cell phone number, t-shirt size, birthdate and any of the other required questions.
Read the disclaimer and check the box indicating your acceptance.
Enter your name in the box for a digital signature.   
Click the "Sign Up To Volunteer" box at the bottom.
You will receive a confirmation email. 
Once you receive your confirmation email, you need to make sure you confirm your volunteer spot by finalizing your choice. You do this by clicking the confirmation link in the email!  Please keep this confirmation email as it will allow you to click on a link to your job/shift information and to go back into the module and make changes if you need to cancel or change shift times/dates.
Questions? Please contact Nikki Kopmann at nkopmann@dsc-illinois.org
Areas with Volunteer Opportunities Available May Include:
"On-call" Volunteer for Special Projects
Information about Volunteering and Tours
There is no length of commitment required for helping with fundraisers, special events, or yard work. These are available as one-time volunteer opportunities or on an as-available basis.
If you would like to volunteer, please contact Janice McAteer at jmcateer@dsc-illinois.org or by calling (217) 356-9176.
If you'd like to receive a tour of DSC, please contact Nikki Kopmann at nkopmann@dsc-illinois.org or call 217-356-9176.
Sign-up for the Volunteer e-Newsletter below to stay up to date on volunteer opportunities available at DSC!