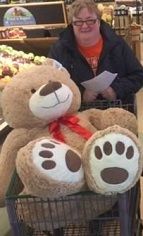 Dori enjoys working with everyone at DSC and lets it show through her friendly smile. Recently, Dori worked with other consumers at DSC to cook a Saint Patrick's Day feast. She worked hard with other consumers to prep and cook all of the food for Saint Patrick's Day.
When Dori's not in the kitchen, she volunteers with other DSC consumers at Salt & Light and the Swann Special Care Center. Dori also really enjoys park walking, a paid community job that takes place four days a week. Dori and her coworkers pick up trash left behind to restore the beauty of our Champaign community's parks through Champaign Park District. Dori has been park walking for over 10 years now. Brian Richter from DSC says that Dori is one of the mainstays for the project. Dori loves to get outside and get some exercise. Several years ago, Dori and a few of her coworkers made a pledge that she leads that after they're finished with the parks, "Today is the day that I made a difference. My community can count on me to keep it clean!"
In her free time, one of Dori's favorite things to do is to visit her nieces and nephews who live in central Illinois.