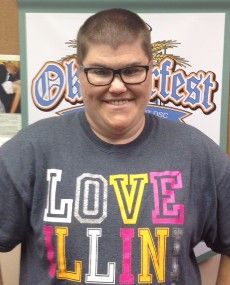 Amy is a charismatic woman who enjoys helping others. She is always up for helping staff with cleaning and cooking. Believe it or not, she claims that her favorite thing to clean is the bathroom! Her favorite meal to cook is pork chops and mashed potatoes.  She also recently helped sell raffle tickets for C-U in the Prairibbean at El Toro.
Amy currently works as a materials handler at DSC, though her dream job would be a case worker, or an activity aid at a nursing home. She described how much fun she had when she volunteered at the Champaign Rehab Center playing games with the residents. She mentioned that this would be something she would like to do again someday. For now, she is working on setting up a FaceBook safety class to warn others of the dangers of giving out too much personal information.
When Amy is not busy helping others, she can be found hanging out with her friends at different area parks playing Pokemon Go, or at the Carmike Theater in Champaign. She enjoys going out to Custard Cup for ice cream with her boyfriend, and also to Starbucks for a chocolate chip mocha. Amy mentioned that she also enjoys shopping at Kohl's to buy shoes, shorts, and sweatpants.