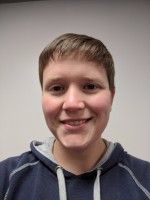 Chasity has held many positions since she began working at DSC in 2012, with her most recent position as a Health Advocate in the Residential program. Chasity has worked in this field prior to joining DSC, and shared just how much she enjoys working at DSC. Specifically, she noted, "it is hard to find a company that is here for all the 'right reasons'". She feels DSC's mission statement is consistent with the services provided and that the agency works to fulfill their mission. 
Chasity shared one of her most memorable moments working at DSC when she was a Residential Manager.  A new participant had moved into one of the group homes she was managing and Chasity witnessed this person blossom and became more independent in her life skills. The participant was doing things she had never experienced.
When Chasity is not working, she is spending quality time with her wife and son. She also is a foster parent!  She has several pets: two dogs, a cat, and a snake.  Chasity enjoys watching action movies and hanging out with friends and family. She helps out with her church as much as possible and hopes that she will be able to travel more in the future. Thank you, Chasity!