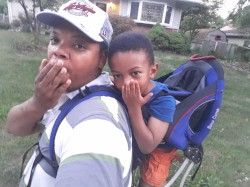 Efrem, who prefers to go by Brad, has been part of the DSC team just shy of two years. 
He expressed how much enjoys working with people and helping them find different activities that match things their interests. He follows the same philosophy as many other DSC employees, Brad shares, "likes to get more people to interact that normally don't talk to each other." One of the ways he does is by starting up a Fantasy Football League for both employees and consumers to get involved! By suggesting something that many people enjoy, it opens up opportunities for communication that might now otherwise happen! 
Brad shared a time when he felt the most excited for a person he supports at DSC by explaining that this person had a goal to become more physically active and also wanted to become more involved in community activities. Brad was able to help him find a group of people in the community that met to practice sword fighting with foam swords. This person really enjoyed this activity, and was able to meet two of his goals in one creative activity! Thank you, Brad!!!!!