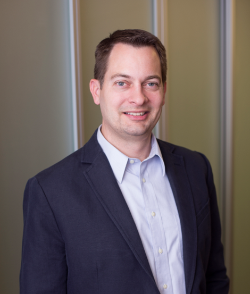 Meet Mark Waldhoff!
Mark is a local Keller Williams real estate agent and has been a DSC board member since 2012. While he had some knowledge of DSC prior to becoming a board member, he got a closer at our mission when he joined many of his coworkers and colleagues at a service project for DSC through Keller Williams' RED Day. RED Day, which stands for Renew, Energize and Donate, is Keller Williams Realty's annual day of service.  
Mark originally came to our community to study Finance at the University of Illinois.  After graduating, he and his wife moved to Chicago for six years before moving back to the area to be closer to their families.  He started his real estate career in 2004 and is now a partner at Keller Williams.  He and his wife have two daughters who keep them busy with softball and dance.  He also enjoys golfing and watching the Cardinals.
Mark shared that he thinks DSC is a valuable asset to the community that doesn't get enough attention.  He feels that if someone doesn't personally know someone with a disability, they may not understand how much DSC does in our community or that we serve 1,200 people a year.  His favorite aspect of being a board member is getting to know the people who choose our services and their families, especially the Tree of Hope families.  The aspect he feels is most challenging is that we have a wide scope of services and each program has unique challenges. 
DSC is so appreciative of all Mark does for DSC and our community!