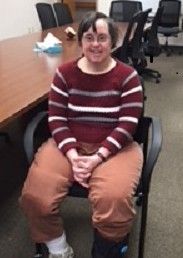 Meet Kay!
Kay is a hard-working woman who has enjoyed thirty years of employment  Arby's. She is responsible for stocking and maintaining an organized and polished dining area. The most exciting part of her workday is when a family member or friend stops in to grab a bite to eat. Arby's is a great fit for Kay because she loves to keep busy!
Kay takes pleasure in spending time with her family. She keeps in touch with her brother, Keith, and her niece who live in D.C. She is very close with her mother and brother, Wayne, who live locally. In Kay's free time she enjoys watching Oprah with her mom while drinking a diet coke.
Kay is a member of First Christian Church located in Champaign. She is looking forward to attending the Night to Shine prom dance, hosted by First Christian Church, at the end of the week. The Tim Tebow Foundation sponsors the dance and will be providing the ultimate prom night experience. Kay's favorite color is red, and has her eye on a beautiful red dress!
Have fun at the Prom, Kay!