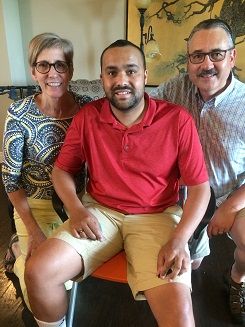 Meet Dan!
Dan is a father to four, the youngest is Caleb, who receives services from DSC. Caleb shared that he especially enjoys cooking with his Dad. The two started out cooking simple meals to increase Caleb's independence, like eggs and spaghetti, but the life skills activity then grew into grilling chicken, making homemade soups and baking pies. Caleb's favorites are beef stew, blueberry pie and wild rice and cheese soup.
Caleb also said that his dad is good at watching him play sports because he doesn't get mad when he watches. Caleb has been a Special Olympics athlete for many years. Caleb's big four sports are basketball, swimming, bowling and softball. Dan agreed with his son, and having the opportunity to watch Caleb play, are some of his fondest memories, specifically mentioning when Caleb's relay team made the Special Olympic Nationals and they were able to travel to New Jersey to cheer him on.
Being a parent with a son with a disability doesn't come without challenges though. Dan said the one thing that really helps him, is keeping a sense of humor. Dan shared that he feels a lot of gratitude because he and his wife Gay, have found a way over the years to share responsibilities for the 24/7 care that Caleb requires, despite their evening schedules. Gay is the Chaplain at Cunningham Children's Home, and Dan is the Senior Pastor and the Director of the Wesley Foundation. He also expressed admiration toward single parents with children with disabilities because they never really get any respite. "Getting respite is a big need for all parents, and it's not always easy. I'm not sure how single parents do it. I am also grateful to Caleb for allowing me to be part of his life. He has taught me empathy that I wouldn't know otherwise, even as a Pastor."
The Family has recently added an apartment on to their home. Caleb is excited about having his friends over to his apartment, and Gay and Dan see this as a way they can support Caleb in a more independent lifestyle, while still being available to him.
Happy Father's Day, Dan, and thanks for all you do!