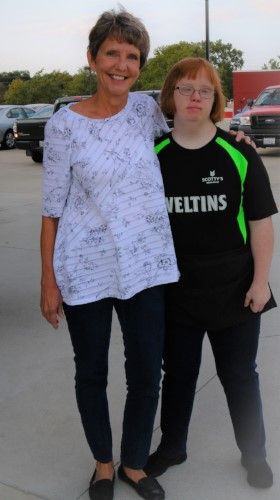 Meet DSC Board Member and Parent, Liz!
Native to Mattoon, IL, Liz attended the University of Illinois at Urbana-Champaign and graduated from the University of Illinois at Chicago, where she studied Medical Laboratory Sciences. Liz and her husband Mike have three daughters and Laura who is the oldest receives services from DSC. In addition to being a wife and mother, Liz worked throughout her career at the Community Blood Services of Illinois, from where she has now retired. Today she is a busy enjoying life and serves as a DSC board member and is actively involved in the life of her daughters.
She became involved with DSC through her daughter Laura, who has Down syndrome. Laura began working at DSC through her high school work program. Today, Laura works at both DSC, and at Scotty's Brewhouse. Laura has been working at Scotty's for a year and a half and has received honors, such as Employee of the Month during her tenure. "Initially, we were not in a hurry for Laura to get a job outside of DSC," stated Liz. At the time, Laura rode the MTD to take classes at Parkland for 5-6 years, in addition to working at DSC. "She was proud of the work she did at DSC, as well as her paycheck, and she had safe, reliable transportation to get from point A to point B, so I was a little unsure of making changes."
Currently, Liz and other family members help Laura work out her transportation to get to Scotty's. While that may not be the option that works for everyone, it's what works for their family. Laura loves working at Scotty's, even taking double shifts when offered to her. One thing we try to emphasize when someone is seeking a job through DSC Employment Services, is that it is not a one size fits all.
One of the things that Liz attributes to Laura's success at Scotty's is the management team and overall work culture there. "Her managers at Scotty's have been very supportive and encouraging of Laura. She also still works at DSC. She chooses to keep her job at DSC. "She likes the people and she likes to stay busy." If you're a parent and you're planning to pursue employment for your son or daughter, there is obviously a lot to take into consideration. "It's worth it to see the benefit and outcome for the individual. You get to see the success and integration," said Liz.