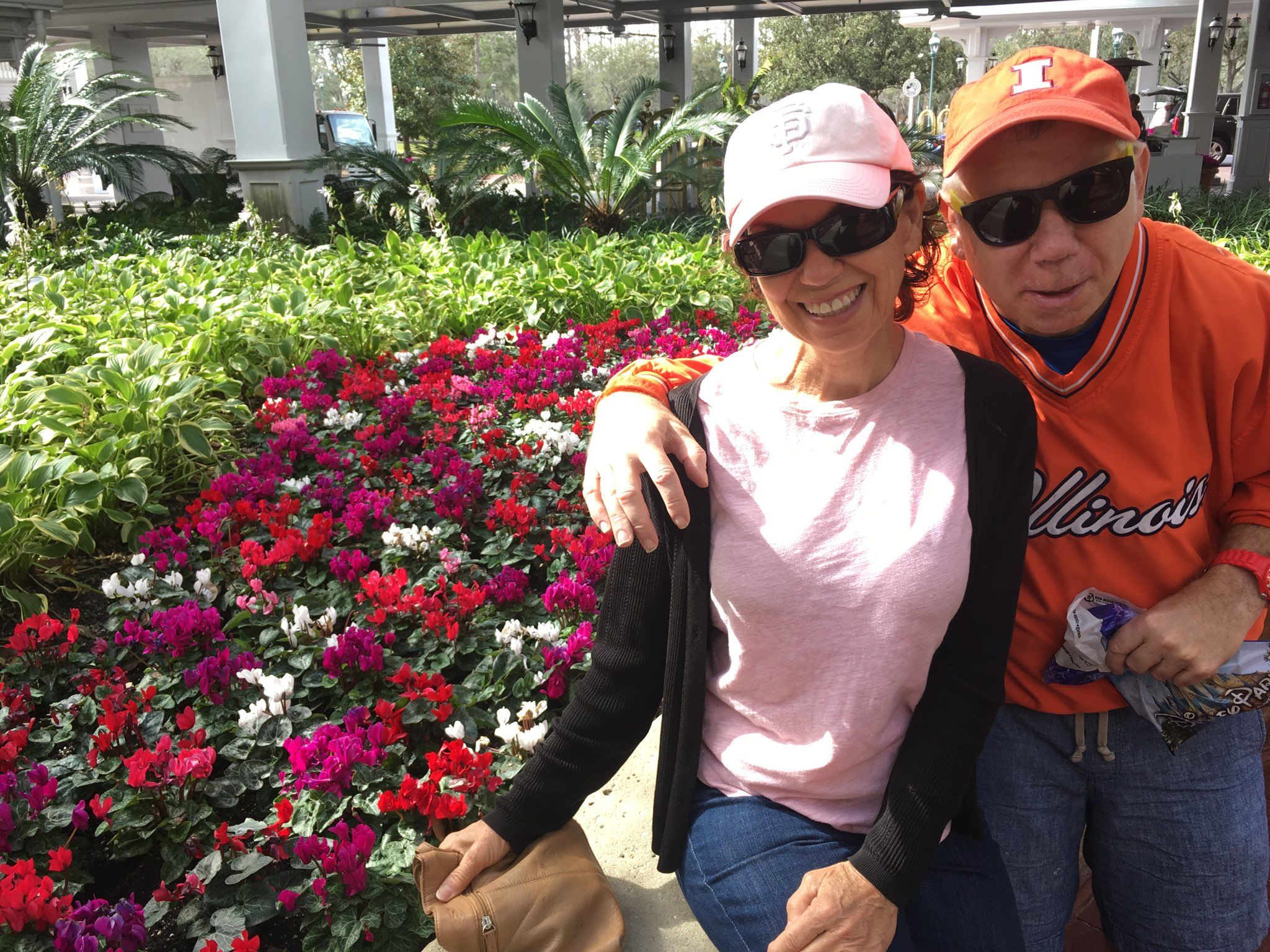 Meet Kathy!
Throughout the month of May, we are honoring our DSC Moms!!! All of you do so much each and every day, and we want to take this opportunity to share some of the inspirational moments and the challenges that you have faced. Happy Mother's Day! We celebrate you!
We had the opportunity to sit down for a visit with Kathy Kearney-Grobler, Mike Kearney's older sister. She was selected to be featured as one of our Mother's Day stories this year because she has been greatly involved in her brother's care, since the passing of her parents in 2006.
Mike and Kathy grew up together in Kentucky. Kathy is 10 years older and Mike is the youngest of the four siblings. Mike was diagnosed with a heart defect at birth, but then at the age of 29, he had a stroke that resulted in 3-month hospital stay. Mike is lucky to have survived, but he lost some of his language use, though his comprehension abilities are still good.
Their father was involved with DSC's golf fundraiser and encouraged Mike to help too. Together, they participated in other events, such as selling donuts to raise funds for organizations like DSC and Special Olympics. "We made a lot of money," Mike told us.
After their parents passed away, Mike spent 50% of his time with his brother Pat's family, and the other 50% with Kathy. Their sister in-law was instrumental in helping Mike get involved with social activities at DSC during Mike's working years, while they all lived in the Champaign area. Then, about three years ago, Mike's brother and his family moved to Florida. At that time, it seemed best for Mike to move in full-time with Kathy and her husband where he currently resides.
"Retirement for my husband hasn't looked exactly like he'd originally planned," Kathy said. "My husband is a God-send and a real trooper." Mike travels with the couple now and he has his own room in a condo wherever they go. "We've been to California, Florida, Hilton Head and Hawaii," Mike said. They have plans to travel to Colorado together later this summer, to visit with one of Mike's longtime friends.
Mike is 57 now, and doesn't always feel up to activities or work. "DSC has been wonderful in helping us adjust and understand this season of life for Mike. Mike is not a complainer, he is always happy, " said Kathy. "I like to be thankful for everything. My sister is nice to be with. She is fun," Mike said.
When the family isn't traveling, Kathy and Mike try to visit the library every Saturday and Mike loves to go to Culver's.
Happy Mother's Day to all of the Moms, including guardians and caregivers!!