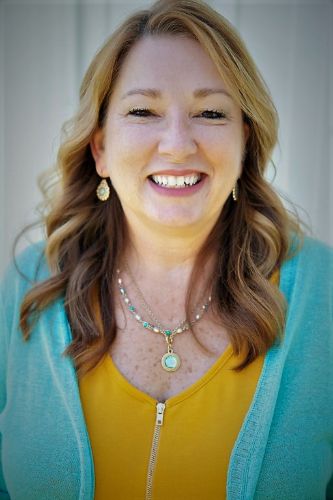 Meet Patty!
Patty Walters, Executive Vice-President of Clinical Services at DSC, celebrated her 30th anniversary with DSC in June. She began her career with the agency shortly after college. "Social services was always the calling and DSC presented the opportunity to live out that calling in the Employment Services program," said Patty.
Her first role at the agency was working as a Community Skills Trainer/Job Coach, where she had oversight of Job Club and served as the Relief Supervisor for two supported employment sites. After three and a half years, she became a Case Manager, which she did for about seven months. When the Director of Program Assurance position opened up, she applied for it. Though she loved direct service, she also didn't want to miss an opportunity. "I guess I made the right decision, since I just celebrated my 30th Anniversary! It has been wonderful to be part of the evolution of DSC through the positons I've held during my tenure."
In her present role, as Executive Vice-President of Clinical Services, she oversees all of the clinical programs for children and adults to include: Family Development, Case Management/Family Support, Residential Services – CILA and Community Living program, Community Day Services, Individual and Family Support – day program and intermittent direct support, Employment Services, and Quality Assurance/Training.
"There is so much more to DSC than the direct support people receive. Everything revolves around the services we provide and there are rules, regulations and grant requirements that are in place to demonstrate quality of service, person-centered practices, safe and healthy environments, community support, and fiscal responsibilities. I work closely with the CFO/Executive VP of Support Services and the CEO, as we provide leadership in line with DSC's Mission. Clinically, I have an opportunity to work closely with the program directors, but also many of the mid-managers and DSPs. This is a perfect job for someone that likes variety in their work - each day is an adventure."
Patty was also appointed to the Illinois DHS (Department of Human Services) Division of Developmental Disabilities Quality Council, where she serves as a representative for provider agencies. This is extremely beneficial for DSC because she is working alongside DHS personnel and other providers and members of various associations to include IARF (Illinois Association of Rehabilitation Facilities) and the Institute on Public Policy for People with Disabilities.
."I have the pleasure of working with many providers and ISC representatives (Independent Service Coordinators) statewide and it has led to some invaluable collaborations. Through this Committee, stakeholders are able to offer opinions, agency perspectives, influence decisions and overall direction in the field. Our involvement has been influential at the state level in regards to person-centered practices. I have really enjoyed being able to extend my contributions beyond DSC and learn from so many other professionals across the state." said Patty.
She served as the Chairperson of the Quality and Monitoring team for the Life Choices Initiative with a focus on ISC monitoring visits consistent with person-centered practices. Several DSC executives, including Patty attended the National APSE Conference in Vermont four years ago which resulted in associations that have furthered DSC's Employment First efforts.  As a result of our progress, we have just been asked to return as presenters at this year's conference, which will take place in October.
Working at DSC for over thirty years, Patty has many memorable moments with the agency. However, one really stands out to her. "I'll never forget that night at the Brookens Center when the referendum for the Developmental Disabilities Board passed. It wasn't just about DSC, but it was a time in our county, when all of the citizens came together. It's about all the people who were then able to receive services. So much work went into that and we get to realize that here at DSC daily. It's one of many, many times we've seen the tremendous support of the community. It was amazing."
One aspect of Patty's job that can be difficult at times, from a clinical perspective, is separating professional from personal when you see someone is really struggling with life or a life event. "I don't mean being unable to set good boundaries, it's more about genuinely feeling someone's pain and only being able to influence the outcome from a professional perspective. You can assist in a variety of ways, but ultimately, someone has to face challenges in their own way with family, friends and in many instances, only the support from DSC. We absolutely want people to pursue their dreams, accomplish personal goals and live meaningful lives, yet there are occasions when what someone wants and what someone needs are two different things, generally related to one's health and/or safety."
"From an Agency perspective, it is the constant struggle to meet the needs of people receiving/seeking support from DSC with inadequate state funding. There are times when DSC must make decisions because it is clinically in the best interests of those we support and there are other times that decisions must be fiscally driven in order to minimize the impact of funding shortfalls on people receiving services and the staff who work to fulfill DSC's mission every day."
If you're looking to grow in your leadership skills, Patty suggests committing to becoming a lifelong learner. "Create your own opportunities. Give your best every day, consider your career an evolution and commit to being a lifelong learner. If you're passionate about your work and continue to grow and learn from those you support and your colleagues, you position yourself for opportunities to further yourself both professionally and personally. Additionally, share what you've learned with others. Be a mentor, a positive role model and take advantage of teaching and learning moments. They happen all the time!"
She recommends resources such as TED talks and books from the popular thought leader, Simon Sinek who is known for Start with the Why. This is something she's practiced as a parent, and in her career. "When people understand why you are making a decision or introducing an idea, they are better able to embrace it or get excited about it."
Karen Martin, Author of The Outstanding Organization: Generate Business Results by Eliminating Chaos and Building the Foundation for Everyday Excellence is another favorite. She is known for the quote, "If everything is a priority, nothing is." "I have to remind myself of this often because it's very easy to try to take care of everything all at once. You have to be able to prioritize and reprioritize often. As much as I know this is true, I still catch myself (and watch many others) trying to give everything immediate attention. Unfortunately, there are times when you don't give something your full attention, you can't do your best work.  And just as important, you don't take time to celebrate the successes."
Out of all the roles Patty holds, she said being a wife and a mom to her three boys is number one. Braden will be a senior this year and they are looking forward to enjoying his last year of high school sports. Trey is 21 and Jordan is 30, both working in Danville. "Family time is hard to come by, but I try to plan dinners on Sunday evenings as often as I can (you know, entice them with food, lol). It doesn't always work, but we try." She also loves to attend concerts, camp and travel.