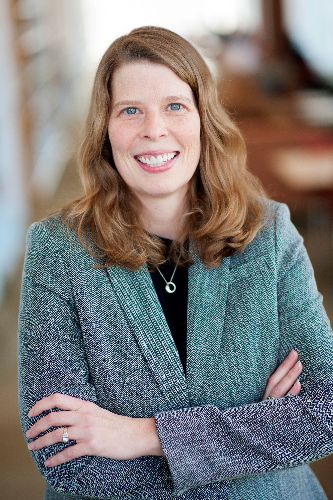 Meet Danielle!
Danielle Matthews, is a long-time resident of Champaign, a wife and mother of two, and is DSC's new Chief Executive Officer. She has been with DSC for 11 years, after beginning her career in public accounting with RSM US. It was in her role at RSM and working on the DSC audit that she met Dale Morrissey and Steve Ray, who are both now retired from DSC.
Danielle began her career at DSC as Executive Vice-President of Support Services and Chief Financial Officer. Though she enjoyed working in the corporate sector, Danielle has found working at a non-profit rewarding. "I've always enjoyed being involved at the decision-making level of an organization. It's important for me to know that I'm making a difference and creating an impact with my leadership," said Matthews.
Over the years, Danielle has participated in the Executive Club of Champaign County, United Way, Leadership Illinois and other groups. For those who may be aspiring toward leadership, Danielle recommends networking and getting involved in your local community. "It also helps to find others who are on a similar path. Get the support and mentoring you need. You can't do it alone, so learn to ask for help early on in your career. It's not always easy, but you can't be everything to everyone. Once you get started, it gets easier to ask for support."
Aside from the responsibility that comes along with being a CEO, we asked Danielle about the day-to-day aspects of her job and what she's most looking forward to in the year ahead. "My role is about people and the community, but largely about the leadership of our agency. I'm looking ahead to creating more opportunity for DSC and the people we support, as well as expanding employment and meeting families. We also have over two-hundred employees and the number one thing I hear is that it feels like a family. It's tangible when we all gather together at our Annual Employee Fish Fry and holiday parties. Everyone is so passionate and dedicated to the mission here, from the DSPs (Direct Support Professionals) to the front office. I want to continue to foster that culture here."
As with any leadership position, my job does not come without challenges. "The one obstacle we continue to face is funding. With state reimbursement rates, we are challenged to continue to seek out other sources of funding, while still fulfilling our mission."
For her own leadership encouragement, Danielle listens to TED talks, or draws on industry specific resources from authors such as Art Dykstra, retired CEO of Trinity Services, an organization similar to DSC in the Joliet area. Danielle also enjoys the outdoors, hiking, visiting the ocean and spending time with family.