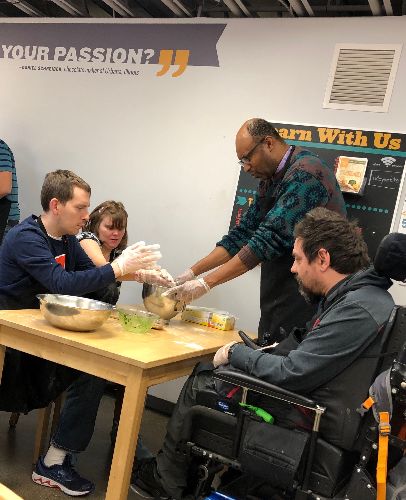 Meet Terry!
Terry started with DSC on September 10th, twenty-nine years ago. "No two days have ever felt the same here at DSC, so it doesn't feel like 29 years," said Terry. He started his career with DSC in Residential, working for Annette Becherer. "She was wonderful and I felt really supported and you could tell and can still tell that she cares about her employees and the people who receive our services."
In 2008, Terry transferred to Community Day Services (CDS). "I'm really proud of the services we offer. We provide a very good product. In residential we just accomplished so much. I took people to Soldier Field, to numerous football and basketball games, Chicago trips. I've taken people to Six Flags, St. Louis. We also went to the Bloomington Zoo. It fills me with a lot of pride and satisfaction that we're able to get them out in the community and that they're respected in the community."
Because Terry has been here almost thirty years, he's witnessed a lot of changes not only at DSC, but also at large within our field of service providers. "Many times when out in the community people come up to us and express appreciation for DSC as an agency and for what we do and that makes me feel really good. It's so important for DSC to continue to exist because so many places like ours have shut their doors. I'm very grateful to our leadership that they, along with the community and donors make it possible for us to be here. I also like the fact that we're constantly trying to get better and improve as an agency."
Terry also wanted us to be sure and mention his appreciation for his DSC colleagues. "I'm so impressed with the amount of compassion I see at DSC for people. A great example is the level of support we provide when someone we support passes on because that is something we encounter regularly. I've seen my colleagues go above and beyond over the years. I've worked with some outstanding professionals over the years."
Terry is an avid reader and especially enjoys African-American poetry and novels. He has read all of the published poems of Langston Hughes and "To Kill a Mockingbird" by Harper Lee is one of his all-time favorite books. When Terry was younger, he began reading about chess. As he became interested in the subject, he began to play and is a former tournament chess player. He later went on to become the Chess Coach at Urbana High School. Terry is also active at his local church.