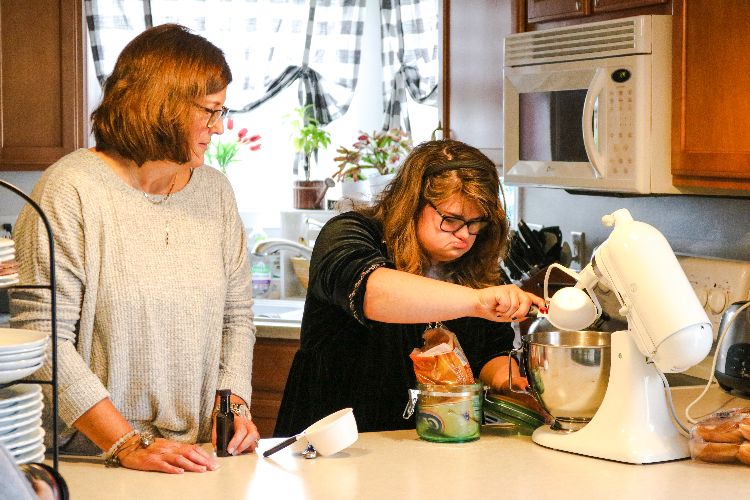 Meet Kelly!
Kelly Jane Griffin was born in March of 1998. We featured her family as the Tree of Hope spokesfamily in November of 2001. We recently had the opportunity to revisit this special time with the Jordan family.
Kelly's mom, Gayle remembers all too well that time in her life when Kelly was diagnosed with Down syndrome. After Kelly had spent time in NICU, they were referred by a friend to DSC. She received occupational therapy, speech therapy and play therapy through DSC. "It was a life saver for us at the time. We would look forward to the in-home visits when Kelly was young. The services we received then were integral with her starting school. For me, as her mother, it helped me to understand the importance of advocacy on my part and how important it was going to be to teach Kelly self-advocacy, as she got older."
"The defining moment for me was when I decided that Kelly's diagnosis was not going to define us. I had to decide, 'This is my daughter and the diagnosis of Down syndrome is secondary.' DSC gave me the support to do that. They showed me the way to show other people the way, as Kelly began her school years. There were definitely hard times, but making the decision and having the resolve to do that and being an advocate made it less scary for me."
Kelly now works at the school where she attended while growing up. The idea came out of her IEP (Individualized Education Plan). She started as a volunteer and was later hired as an employee. Now 20-years old, Kelly said she enjoys being out of school. She demonstrated for us how she makes copies in the school office, packets and helps to clean the tables in the cafeteria. Her favorite part of the job is making the bags that go home with the kids on Fridays, and walking the kids to the office when they're not feeling well because it makes her feel good about what she's doing to help others.
When she's not at work, Kelly said she enjoys hanging out in her room, reading and watching movies. She hopes to be a wedding planner someday and also looks forward to having a boyfriend. She is also planning to attend college in Georgia soon. "I'm proud to have my own job. I have made good grades and make money on my own. I'm very proud of myself. I want to go to Paris because I love Paris. I like to spend my money at Bath & Body Works and Pink," said Kelly.
Kelly's step-father, Calvin Jordan, told us that being a part of Kelly's life has helped him have a greater understanding about people with disabilities. "She really amazes me. It makes me want to cry sometimes-but they're good tears. She's such a good kid. I feel good knowing that I've had the opportunity to be a part of it all. She's a smart girl. She's exceeded a lot of people's expectations by getting on the honor roll, playing sports and she's planning to go to college. We're all very proud of her."
Gayle told us that one of her proudest moments as Kelly's mom was when she was in chorus and had the opportunity to sing a solo in front of a crowd of 250 people. She sang the song, "Tomorrow," from Annie. "Kelly is a role model to me. I'm so incredibly grateful for what she's taught me. She's such a strong person of faith. No matter what you have on earth if you have your faith, that's all you need."
"It can be hard, but I wouldn't trade it for the world. That's what I would tell a young couple starting out, who is just learning about their diagnosis. It's truly a beautiful thing. I feel blessed to have Kelly. It's a privilege I've been given. She's so pure. People with disabilities can change communities, companies and their state," said Kelly's mom, Gayle.