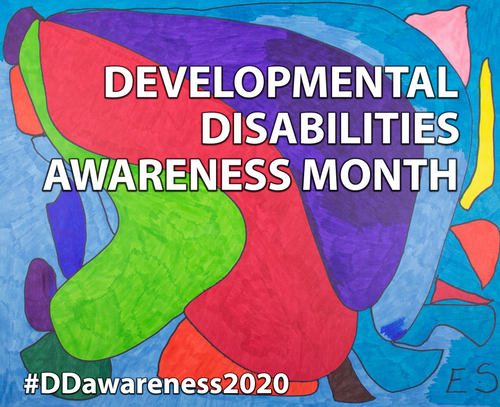 March is National Developmental Disabilities Awareness Month and Saturday, March 21st is World Down Syndrome Day, so we have set aside this week's Meet-Me-On-Monday to highlight two important topics and let you know how you as our audience can get involved and be an advocate.
During National Developmental Disabilities Awareness Month, organizations like DSC unite together to showcase the excellent work that is being done to enhance the lives of people with developmental disabilities. We recognize all of the progress being made while acknowledging that we still have a long way to go. At DSC we hear wonderful stories of independence weekly and we get to celebrate the successes with people who choose to receive our services and supports.
A recent success realized by several people, was the Spring Open House held at The Crow at 110 earlier this month. Artists hosted their 4th public event there, with works of art and handmade goods on display and for sale. Over the years, artwork has been on display here at DSC. Now we celebrate their time and talent as they enjoy opportunities to commission their works!
Also coming up on Saturday, March 21st, is World Down Syndrome Day. Globally, people will participate in local and virtual awareness activities to advocate on behalf of people with Down syndrome. In addition to reading and learning about the activities on Saturday, you can wear lots of socks to raise awareness. Have a little fun, take pictures and post to social media on Saturday as part of the global effort and be sure to use the hashtags: #LotsOfSocks, #WorldDownSyndromeDay and #WDSD2020
Patty Walters, Executive Vice President of Clinical Services shares, "We are proud of how DSC services have evolved over the years and one of my favorite Maya Angelou quotes sums up well our commitment to continue to stretch ourselves on behalf of people receiving our services. "Do the best you can until you know better. Then when you know better, do better."  Doesn't that define advocacy? It can happen in the smallest and biggest ways, giving us all an opportunity to engage in a way that is meaningful to each of us. So wear those socks, donate your time, and be an advocate for something or someone you genuinely believe in –  make it personal and enjoy the spirit of giving."
Here are a few other ways you can get involved and advocate.
You can join us in being an advocate by sharing the stories posted on our social media, or consider passing along a DSC newsletter.
Do you own a business, or are you a Champaign County Employer? Consider LEAP training. LEAP (Leaders in Employing All People) is a free, one-hour, disability-employment training that has been conducted for many local businesses, with each receiving certification upon completion. Contact Leslie Olson at lolson@dsc-illinois.org for more information.
Commit to attending an event held by DSC or another organization within the disability community this year. There are opportunities to volunteer, attend, sponsor and donate in a variety of ways throughout the year.
Thank you for continued support and partnership!