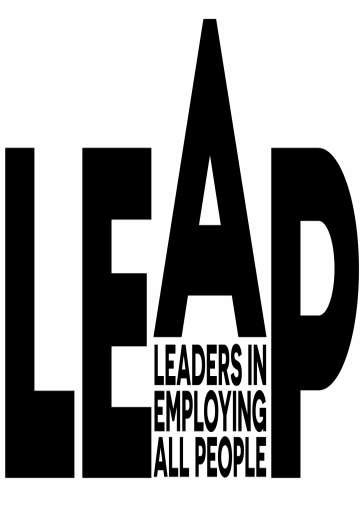 LEAP (Leaders in Employing All People)
Funded by the Champaign County Developmental Disabilities Board,
LEAP is a collaborative effort between DSC and Community Choices.
This program offers Champaign County businesses a one-hour group or individual training on becoming a disability-inclusive business. This training helps to increase the pool of hiring candidates, improve morale among existing staff, and sets the bar for other businesses in the community.
Here's the full list of LEAP Certified Employers:
Ace Hardware- Neil St.
Alpha Dog Entertainment
Best Buy
Best Western Paradise Inn
Big Grove Tavern
Bundles of Joy Learning Center
Carle Foundation (HR Department)
CES Electric
Champaign County Forest Preserve
Champaign Park District
Champaign County Clerk
Champaign County Executive
Champaign County Planning and Zoning
Champaign County Recorder
Champaign County States Attorney
Clark Lindsey Village
CMI
County Market on Kirby
Cunningham Township
Dish Passionate Cuisine
DashMac/McDonald's
Dixon Graphics
Farm Credit IL
FedEx Ground
First Federal Savings Bank of C-U
For the Love of Hair
Goodwill (Champaign and Savoy)
Gordon Food Service
Helia Healthcare
Habitat for Humanity ReStore
Hobby Lobby
Holiday Inn Express- Rantoul
Home Depot
Houlihan's
Hyatt Place C-U
I-Hotel and Conference Center
Inman Place
JPE, Inc.
Jupiter's at the Crossing
KinderCare Learning Center
LaPetite Academy
Little Wings Daycare
Loving Paws Pet Clinic
Mahomet Chamber of Commerce
Mahomet Public Library
Mahomet Seymour Schools/
Atlas Program
Miga Restaurant
MTD
Multifamily Regency
Next Generation
Old Navy at Market Place
OmniProsthetics
Original Pancake House
The Orpheum Children's Museum
Pepsi Bottling Co.
Parkland College
Peter Pan Too
PetSmart
Pixo Technologies
Planet Fitness Champaign
Planet Fitness Urbana
Rigg's Brewery
Rockwell Automation
Salt & Light (Urbana and Champaign)
Schnuck's (All C-U Locations)
See You CD & Vinyl
Stephens Family YMCA
Surface 51
Ten Thousand Villages
The Vineyard Church
Todd Jacobs, State Farm Agent
Unitarian Universalist Church
Urbana Park District
The City of Urbana
Village of Rantoul
Wagner Machinery
Walgreens Mahomet
Walgreens on Green St.
Walgreens on Philo Rd.
Walgreens on University
For more information about LEAP, please contact Leslie Olson at DSC lolson@dsc-illinois.org, Ashley Withers at Community Choices, Ashley@cchoices@gmail.com