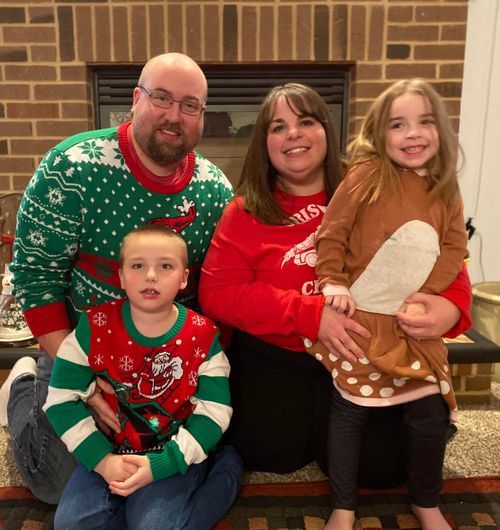 Meet Jared!
Some of you may know Jared as a DSC employee. He has been an Employment Counselor for almost two years. Not only is Jared a DSC employee, but he is also a father. Jared and his wife, Jill (Pictured), have two children, Lexi and Alex, who both have autism. His family was also the 2017 Tree of Hope spokesfamily, which was the experience that brought Jared to the decision to apply for work at DSC.
Prior to COVID-19, Jared was leading two employment groups through DSC Employment Services, including a Men's Group and a drawing group. "We would choose a drawing tutorial on YouTube then I would watch the video step-by-step and draw on an erase board while the group drew on paper. For me, it's not about how well their drawings turned out, but that they tried. Art to me is subjective, so as long as they were happy with what they drew, I was happy," said Jared.
Prior to COVID-19, Jared said group members often enjoyed riding the MTD to get to their destination. DSC groups have found using MTD as a means of transportation helpful because when someone gets a job, or begins to live independently, knowing how to ride the bus further increases their independence. Self-Advocacy is also an important topic discussed in groups. Group members learn about their rights and how to speak up for themselves.
Jared said his favorite thing about working at DSC is working with the people who choose DSC services. "Having two kids of my own with autism, working at DSC feels like a way for me to give back." We also asked him if he had any suggestions, from both the perspective of being a parent and an employee. "Sometimes people with disabilities can get upset due to their disability. I think it's important to be patient with them. They are not always able to communicate the same as others, so it may be expressed differently. For parents, don't be afraid to reach out for help, if your son or daughter has a disability, or you think they might have one. It can feel scary to take that first step, but there are people and resources to help you."
The recent days in particular have brought new challenges for Jared's family. "This has been a very difficult time for our family. My kids don't understand why they aren't going to school, so it was tough for them to get out of their routine. We have been spending a lot of time outside and just trying to keep them busy with different activities, so that they don't get too bored," said Jared.
Their family also enjoys playing outside and says his son is really into Thomas and Friends trains right now. "My daughter loves anything to do with nursery rhymes and books. She even taught herself the alphabet in sign language by watching YouTube videos!"
Thank you, Jared for sharing this update with us and for all you do for DSC. Happy Father's Day!