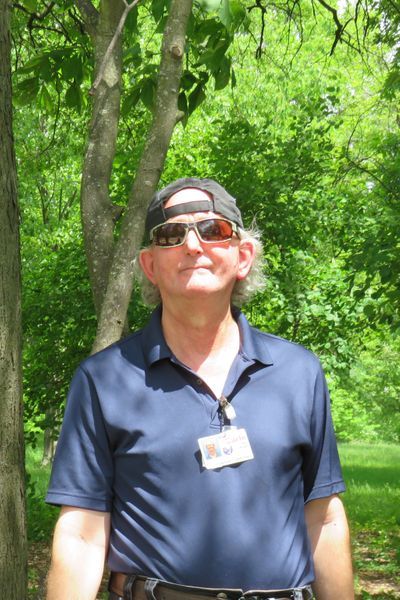 Meet Alan!
In our daily lives, we sometimes take our independence for granted. Our nation's Independence Day causes us to reflect on the importance of individual freedom and independence. Now more than ever, the DSC mission is a reminder of the importance and value of independence, as we support individuals with intellectual and developmental disabilities in reaching their personal and employment goals and dreams. 
DSC serves approximately 1,200 children and adults in our community, providing each person with individualized services and supports tailored to their unique talents. With these personalized services and supports, people are able to achieve new levels of independence…just like Alan.
Alan Knight began receiving services at DSC through Case Management and Employment Services Programs. With DSC support, he started work in dining services at Carle Hospital, where he's worked for approximately 10 years. Asked what he likes most about his job, Alan said he loves the free fountain drinks, the employee food discount, and their new, navy blue, employee shirts. "I'm treated with respect-the people speak to me," said Alan. "Here, I'm not taken for granted. I like that. If I ever have anything going on, I can tell someone at DSC. They will listen to you, and take care of it, or help you through it."
Alan reflected back on his time working in his position and said he remembers when he first started. "It was really stressful at first. I wanted to quit whenever I got too stressed out because I thought I couldn't do it. That was a long time ago. To get through it, I had to tell myself, 'No, you can't quit. You need the paycheck. You have to stick it out,' That's what I told myself. So that's what I did."
Those who have worked alongside Alan, like Annette Becherer, Director of Employment Services at DSC, say that his hard work has not gone unnoticed. "Alan walks to work every day, regardless of the weather. He rarely misses work. He gets along with everyone. He's gentle, quiet and unassuming. He's very conscientious and it's important to him that he does a good job. Most recently, during the eight-month renovation of Carle's kitchen area, his work team was based off-site. That was difficult for everyone, but Alan was a stabilizing force. His work ethic is terrific, and he's realized great personal growth during his tenure at Carle."
We asked Alan if he had any suggestions, or advice for others who were starting out in a new job, or looking for employment. Here's what he had to say, "Show respect, do what you're told. Put in a good day's work. At Carle, we're a team. There's no room for an 'I'm in it for me type of attitude,' and you can't be too proud to ask for help either. We share the job," said Alan.
When off of work, Alan said he doesn't like to go out too much. He prefers a quiet evening at home, watching his favorite shows, or going for a long walk at the park.