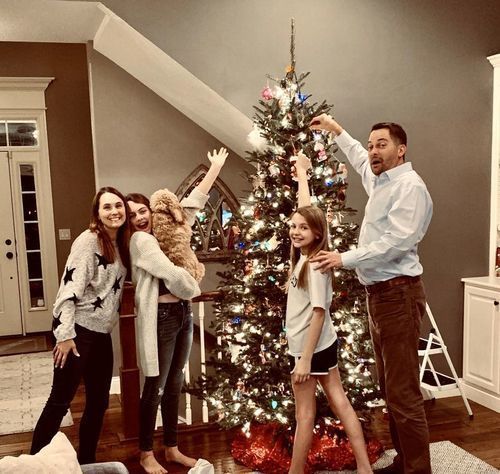 Meet Mark!
Mark Waldhoff is Chair of the DSC Board and a Real Estate Broker at Keller-Williams Realty. Mark joined the DSC board in 2012, after connecting with DSC through volunteer service projects he participated in with Keller-Williams Realty. It was through volunteer work such as painting and doing yardwork together with his co-workers that a relationship was formed between DSC and Mark. "It's an honor to be in this role and to have such a wonderful group of board members to work with, along with the staff and leadership at DSC. It's a well-run organization and I'm proud to be a part of it," said Mark.
Mark continues to volunteer with DSC by participating in DSC events such as C-U Oktoberfest, C-U in the Prairibbean and Tree of Hope. He's also volunteered at DSC holiday parties over the years. "I've always enjoyed volunteering to serve lunch during the annual Holiday party. I love walking in and everyone is happy and having fun. What really stands out to me about my involvement with DSC is that the mission is visible and tangible. When I'm around the employees I'm always impressed at how well they know each other. It's like a great, big family," said Mark.
As the Board Chair, Mark was present when the goal was unveiled for Tree of Hope campaign this year. "I appreciate the deeper connection I make to DSC each year through Tree of Hope by hearing the individual stories of the Spokesfamily, as well as the Recognition winners, and how they each arrived at their achievements."
"We always set a big, challenging goal for Tree of Hope because it's a great cause and we can put the funds to good use. We have set the goal at $175,000 this year. It's always a challenge and even more so this year, but the need is there and we're hoping the community is up for the challenge."
"Looking ahead to the future, I'm excited for where DSC is headed. There are constant changes and as board members, we are always planning for and reacting to those changes. I'm really proud of DSC's ability to adapt during these times and the continued efforts to offer new opportunities like the Crow and employment options."
Mark is married to wife Kacy, has two daughters, Tessa who is 14 and Lauren who is 12. He enjoys spending time with his family, playing golf and Cardinals baseball.