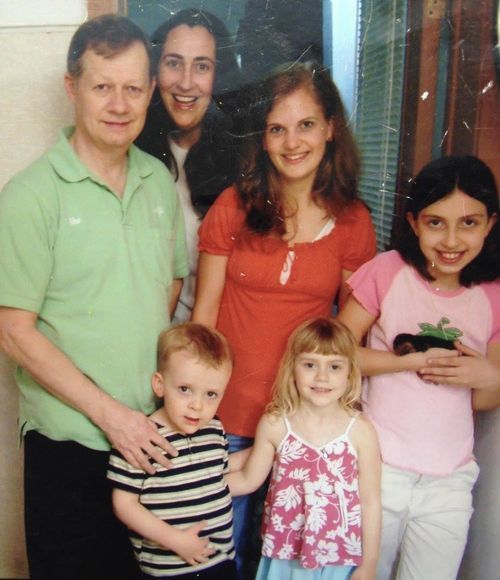 Tree of Hope Looking Back
Meet Diane!
Diane Ducey is well-known around Central Illinois for her on-air talents and work with Stevie Jay Broadcasting and the community. What you may not know, is that in 2006, she, along with her husband Mike and their son Aidan, and their two daughters, Anna and Gabby were the Tree of Hope Spokesfamily in 2006. The Andersons had also committed to having an exchange student from Germany live with them that year-Esther. "It was a fun season of making media appearances and telling our story," recalls Diane. "Aidan liked Cheetos at the time and wouldn't sit still. He got orange Cheetos dust all over Janice McAteer, DSC's former Vice President of Development and the TV host at WICD."
Aidan is a senior in high school now, but Diane hasn't forgotten those early years. "When Aidan was born, he wasn't meeting all of the developmental milestones. I knew from having two older daughters and reading the parenting books that something wasn't right. That's how we were connected to DSC."
Aidan was diagnosed with autism, learning disabilities and Soto syndrome. He went through a scary time in his life around that time, Diane told us. "We had noticed something unusual about his snoring and recorded it for the doctor to hear. We thought it was kind of cute, but we were sent to St. Louis Children's Hospital. Aidan's blood/oxygen level was dropping too low. This was related to the Soto syndrome. He had to have his adenoids and tonsils removed and then the adenoids grew back and had to be removed again."
Diane said that working in the media over the years, has helped her get connected to resources in the disability community. "I've learned about many of them through my work and been intentional about raising the flag for other parents. DSC has been one of those resources for my family. We were always so grateful to have Judy Ullom(insert her title) come to the house and have Aidan 'Play with Purpose' and we were involved with another DSC Coffee Circle where the kids would be able to play while the parents had social time. We realized quickly with Aidan's Autism diagnosis, that it would be vital for us to keep him socially engaged too."
Diane said that it was around the time that Aidan turned 3, when Unit 7 School District in Tolono, where her family lives, that programs were first offered for Aidan to participate in. "He is a senior there now and he has connected well with the Ag Teacher there. He's in FFA (Future Farmers of America), he's attended field trips with their class and they've visited poultry plants, gone to Indy and had fun stopping to eat at Yoder's Kitchen on the way home. He also enjoyed the Pet Pals Program from the Humane Society growing up. We're supporting him to prepare for a career in Animal Management," said Diane.
Over the years, they've participated in PUPs a program through Urbana High School, C-U Autism Network and The Autism Program (TAP) on the U of I Campus, The Disability Resource Expo and Aidan has been involved with Special Olympics Region 8. "As much as possible, I want to advocate and help families in their journey. I know that someday I might not be there for Aidan, but I hope that someone else will be there. I think that's what all parents hope for. That's why I always show appreciation for the teachers and care workers."
For fun, Aidan and his family enjoy heading out for a hike at Busey Woods. "It feels like you're deep in the woods, but it's only about a quarter of a mile, so he's not getting too tired. He loves it. We also enjoy the Anita Purves Nature Center and East Side Park near our home in Tolono. Aidan is so friendly, so everyone says 'Hi' to him when we're out. He also loves riding his Ambucs bike around the block."
"I've always been thankful for all of the opportunities and services we've been offered through DSC and others."