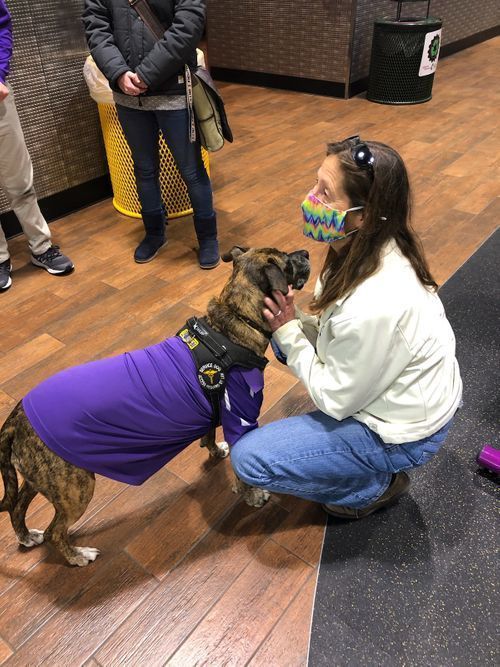 Meet Planet Fitness, Urbana!
As part of our Annual Tree of Hope Kick-off, we include a Special Recognition Event. Each year we award several individuals for their outstanding achievements. 2020 is the 34th year DSC has recognized award winners, and though we were unable to present the awards to our winners at the larger event this year due to COVID-19 restrictions, we still want to recognize each recipient individually. This year, Planet Fitness of Urbana received the 2020 Employer of the Year Award.
Planet Fitness has collaborated with DSC's Employment Services Program for a number of years. They also obtained their LEAP certification in 2017, which is collaborative training program offered by DSC and Community Choices on disability employment.
"I feel honored that we've been presented with this award, said Amanda, the Club Manager at Planet Fitness in Urbana. "I try my best to create an inclusive environment for everyone here. Every employee needs some type of accommodation, so I don't really do anything different for a person with disability that I wouldn't do for someone else. It's just how I was raised. I don't just practice a 'Judgement Free Zone when I'm here at Planet Fitness,' but it's how I try to live my life."
In addition to working with DSC, Planet Fitness in Urbana has also welcomed a member's service dog as their unofficial mascot. Findley, who is pictured in the photo, belongs to one of their members, who is a wounded veteran. To help other members who may not be as comfortable around a service dog, Amanda, along with Planet Fitness owners worked to get Findley her own Planet Fitness shirt to wear when she comes to the club. "It makes Findley part of our team and helps make everyone more comfortable. She's become our mascot, and now everyone looks forward to her being here."
"Amanda and her team at Planet Fitness are so great to work with. Amanda provides such a positive experience for everyone. The inclusive environment has helped the team members we support to flourish in their jobs. They love going to work!" Annette Becherer, Director of Employment Services, DSC.
Congratulations, Planet Fitness on this outstanding achievement!