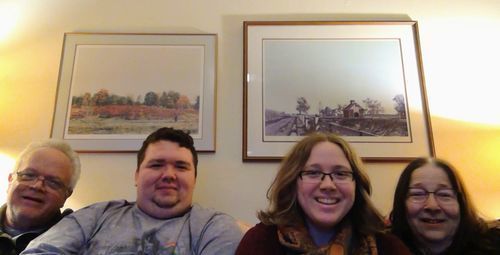 Throughout the month of May, we are honoring our DSC Moms!!! All of you do so much each and every day, and we want to take this opportunity to share some of the inspirational moments and the challenges you have faced. Happy Mother's Day! We celebrate you!
Sally Mustered, is the mother of Tom who is twenty-nine years old and receives support from DSC. Sally told us that she initially learned about DSC in 1994 through a friend who was working for the Illinois Planning Council at the time. "She was my former college roommate and was staying with us while she attended a conference in town. She met my children, and we talked about the things that my husband, and I were beginning to question in our son's development.  A few days after she had returned home, she called to suggest that we might want to contact DSC to set up an evaluation to rule out or determine a possible autism diagnosis. DSC's assessment team determined that Tom was a candidate for their Early Intervention Services, and he began working with several therapists, including Sarah Perry who is still employed at the agency. Sarah, worked at DSC as a Certified Occupational Therapist Assistant (COTA) at the time, and is now the Director of Residential Programs at DSC."
Tom was formally diagnosed with autism in December 1994 at the Carle Child Development Center in Urbana and began an Early Childhood program at public school when he turned three in January 1995. "The first thing I did was go buy a book on autism. That's all I knew to do. The resources and information available on autism were so limited at the time. A lot has changed since then, thankfully. One thing I would suggest to new parents who are in the early stages of discovering an autism diagnosis, is to look at it like a lifetime of learning because things do change."
Through DSC, Tom was able to procure services during his middle-school years through the Independent Family Services (IFS) program which was created with funding from the Champaign County Mental Health/Developmental Disabilities Board referendum that our community passed. "The Respite Services saved our family and gave Tom some wonderful opportunities to attend the Easter Seals program at Timber Pointe camp on Lake Bloomington in Hudson, Illinois. Respite Services also helped Tom and another student take part in some fun activities throughout the community while working on their social skills."
Sally said these supported activities continued throughout Tom's high school years and beyond. "He especially enjoyed taking trips with his IFS support worker and listening to music CD's. Tom loves to travel (especially on trains). He also really likes his job at Walgreens!  He was lucky enough to get his job while he was still in school, and he has been working there for the last seven years with support from the job coaches at DSC. In his years at Walgreens, he has progressed from checking outdates to, also working in the photo department, scanning deliveries as they come into the store and manning the cash register. He's known for offering help to customers and his general good attitude. It's watching those accomplishments over time that make me so proud."
Over the years, Sally and her family have worked with many staff members at DSC, as well as at the schools, and other agencies. She recommends looking for people who are open and flexible. "You know you're working with someone good when they use phrases like, 'Let's try something else, or how about we try another way,' or they ask questions like, 'I wonder why?' I've met some truly great people over the years. One of those people is Cathy Luhrsen, Tom's Case Manager. She's always attending meetings and taking care of details behind the scenes on our behalf. My memories from DSC are mainly of the wonderful people I have met over the years. My son was two when we started our journey. He's twenty-nine now."
Thank you, Sally for sharing your story and all you do as a Mom! Happy Mother's Day!