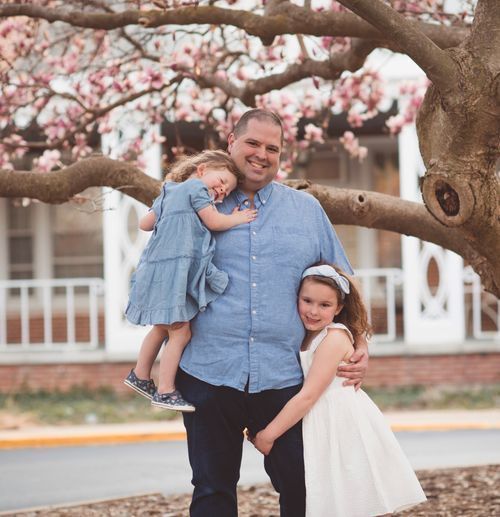 Meet Matt!
In celebration of Father's Day, we're recognizing DSC Dads throughout the month of June and all they do. Thank you Dads!!
Matt Turskey is Eleanor's father, who is 3 1/2 years old and receives services from DSC. Eleanor has a rare genetic disorder called 18p deletion syndrome. When they discovered Eleanor's diagnosis, Matt's wife Sarah applied for Early Intervention (EI) services and Eleanor was then evaluated by Barb Hoffmann, SLP from DSC.
Matt and Sarah work opposite schedules which means they work as a team when it comes to parenting Eleanor and her older sister, Penny. They often rotate shifts to make sure everything Eleanor needs is covered. Despite Eleanor's disability, Matt says he tries not to treat her any different from her sister. "I have high expectations for her and even if it might be more difficult for her, I still want her to try. Her favorite expression right now is, 'It's too hard,' but I want her to continue to give it her best shot."
Barb Hoffmann, a licensed speech pathologist at DSC, who works with their family had this to say about Matt, "He is an amazing dad who frequently participates in the virtual therapy with his daughter, Eleanor. I have been SO impressed with his understanding of the therapy process and his ability to transform ideas into action for Eleanor. They are fun to watch together. Matt also has great ideas that he carries over into daily routines and play like transforming a cardboard box into a spaceship. I keep telling him if he wants to go back to school to train as a speech pathologist that I'd happily write him a letter of recommendation. Amazing Dad, amazing person!"
Matt describes his daughter as having a big personality. "Eleanor likes to run the show and Barb understands how to work with her. We're doing a lot of play-learning therapy. Barb uses what's in Eleanor's natural environment and play to help her learn. Barb gets all of us involved in Eleanor's learning, including myself and Eleanor's big sister, Penny. Since the pandemic started, Barb has always taken the time to ask us not only about Eleanor, but also about how it's affected our whole family."
When the Turskey family first began working with DSC, Barb came to their home to provide the therapy. More recently during the pandemic they've been meeting virtually according to current pandemic guidelines. Eleanor has successfully transitioned to a virtual therapy format. She greets, shares, requests, follows directions, shows what she is learning and gives hugs and kisses via live video.
Young children have a reputation for throwing tantrums and Eleanor is no different. Matt told us that he found some assurance when Eleanor first started throwing tantrums. "You see she's doing something that's typical of all 3-year-olds. It can also be a challenge like with any child who throws tantrums. I like to tease Barb and tell her she teaches kids to talk back. Eleanor having tantrums demonstrates progress, and how she can now communicate and express her emotion, even if it's through a tantrum."
The Turskeys still make time for fun. Their family enjoys pizza, and movie nights in addition to going for walks. Eleanor especially enjoys indulging their dog Cole with plenty of hugs and kisses.
Happy Father's Day, Matt!