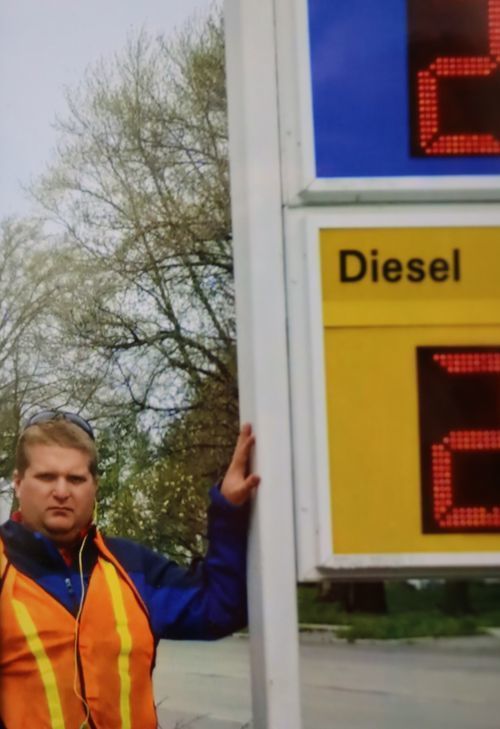 Meet Eric!
In celebration of Father's Day, we're recognizing DSC Dads throughout the month of June and all that Dads do. Thank you Dads!!
Eric Schwalm is the father of Melody who is in her forties, and Ethan who is in his thirties, both have autism and receive services from DSC, and their middle brother. Their family was connected with DSC when the children were young. The family learned about Melody's diagnosis prior to moving to Champaign, when they still lived in Springfield. When they made the transition to Champaign, they were then ready to connect with resources and support.
When Eric's children were young, he recalls being involved with a parent support group that met in the evenings at DSC. "We were fortunate that DSC was run by such wonderful people, and had such great programs. They would open up their doors after hours for all of us to meet after we got off work. The group was called the Illinois Autism Society and parents came from Coles County, Douglas County, all over the state, and it helped us all get a good foundation for our kids."
Eric said that their family's experience here in Champaign has been good. "There are so many resources available here because we have the University of Illinois. Champaign-Urbana is full of caring, philanthropic people who desire for everyone to live and achieve to their highest ability."
"The special education programming in Champaign-Urbana is also really top-notch. One of the challenges we had though was Urbana had what my daughter needed, and Champaign had what my son needed. I decided to put them both at Champaign, and I really should've kept them each in the school that was best for them, but I didn't see that was for the best at the time. Looking back, that would've been the better choice, but I made the best decision based on the knowledge I had at that time. If I were giving advice to younger parents, it would be to consider options like that, if you have them."
Today, Melody lives in a DSC CILA (Community Integrated Living Arrangement) and Ethan lives in his own apartment with DSC support. Eric said their family began the transition process years before his son or daughter moved into an independent living community, and it was probably a four-year process. Ethan worked with a Job Coach at DSC, for example, and with assistance from DSC, he secured employment following his graduation from high school. They also worked with Community Living Specialists at DSC. "Initially, when Melody was ready to move into a CILA we considered one in the Champaign-Urbana area. Although it was closer geographically, working with DSC, and a Community Living Specialist, we learned that there are many factors to consider. We decided on another location that was the best fit for her personality, and who she is as a person."
Eric said it's also important to know it's not only DSC's job to prepare. "Parents need to train and prepare their children for life transitions. We worked at home on grooming, house cleaning, work ethic, so many aspects, to coincide with what was happening at DSC to prepare them for their future." One of the steps their family has taken, is making end of life preparations for their children. "Ron Bribriesco, the former Director of Case Management & Family Support Services, who passed away in 2020, helped us set-up funeral arrangements for our children. It's not easy to think about, with my age, I want to know my children are taken care of in the future."
One of the biggest challenges for Ethan has been maintaining the same level of community and socialization that he had in high school. Ethan attended Champaign Central High School, where he played football, and was part of the team. However, since graduating, he doesn't experience the same level of friendships, or see the same groups of people.
Although Ethan has a steady job, most of his high school friends have families. Despite much progress, social groups are one area where people with intellectual and developmental disabilities still report experiencing division. Because they're often excluded, or not invited, it prevents them from equal opportunities for networking, which is one of the most common ways we find new jobs and move up the socioeconomic ladder.
Therefore, it is vital that people with disabilities are invited and included in alumni groups, business networking groups and service clubs, so they can continue this key aspect of their personal development and career advancement throughout their lifetimes.
"The hardest part is learning to get out of the way as a parent, after they've grown-up and moved out. You have to let them do their own thing and move into more of a coaching role. They still need your guidance at times, but in a new way. You can't stick your nose in every little aspect of their life. We were lucky because we learned a lot of those lessons with Melody, so it was easier with Ethan. When it comes to transitioning, you don't want to wait until 2-3 months before a big change. You really need to start preparing years in advance. You still show your love, care and concern, but it looks more like guidance now."
Happy Father's Day, Eric!