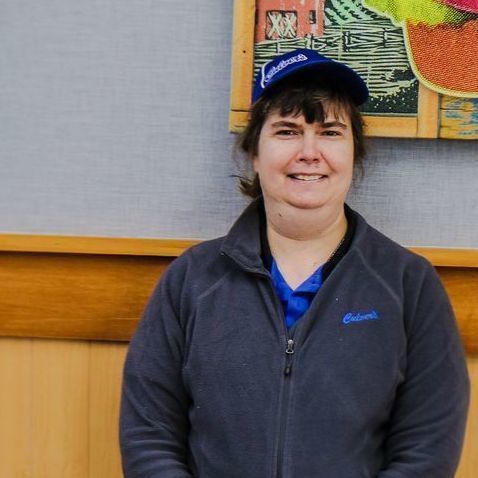 Meet Cindy!
Our Nation's Independence Day encourages us to reflect on the importance of our individual freedom and inde­pendence. As our community continues to heal and move forward, may we be ever mindful of the lessons we've received over this past year, never taking our independence for granted.
DSC supports people in living a rich and meaningful life as people with intellectual and developmental disabilities strive to reach their personal and employment goals and dreams. We are proud to provide customized services to approximately 1,100 children and adults in our community, so that each person receives services and supports tailored to their unique talents. With personalized support, people can achieve new levels of independence just like Cindy.
Cindy Wirth began receiving services at DSC through the Case Management and Employ­ment Services Programs. With DSC support, she maintained two jobs for over two years. Presently, she is working at Culver's in Champaign where she's worked for almost three years. Since getting hired, Cindy has mastered most of the Crew Member tasks at Culver's. She provides customer service, runs the register and drive-thru, and she cooks. "I'm a Jill-of-all-trades," as Cindy likes to say. "It helps to have a supportive employer like Culver's. My manager asks me how I'm doing and they care about me here." Culvers is equally glad to have Cindy as an employee. "Cindy is a dedicated, hardworking employee. She's always will­ing and eager to learn." Derek White, General Manager, Culver's, Marketview Dr. Champaign.
Reflecting on when she first began receiving services from DSC, Cindy said that working with a job coach taught her to take her time as a new employee. "They told me, 'Don't be afraid to ask questions when you need to,' and that's what I do. I also speak up and tell my manager that I'm not afraid to learn new things here." Cindy would like to encourage others, "Hang in there, and don't give up!"
When you first meet Cindy, you can't help but notice her positivity. "I get my smile from my mom," she told us. One of the reasons why she smiles today is because she recently moved from an apartment where she lived for over ten years, into a house. By working with a Community Living Specialist at DSC, she learned budgeting skills that she now applies when making decisions for her new home.
There are many people throughout our community eager for the opportunity to receive the customized services and supports that helped Cindy get established. As DSC continues our efforts to change more lives like Cindy's, we ask for your financial support to help us offer greater independence for all who receive, and are in need of DSC services. By making your gift today, you are partnering with us to promote independence and recognizing its truest meaning.