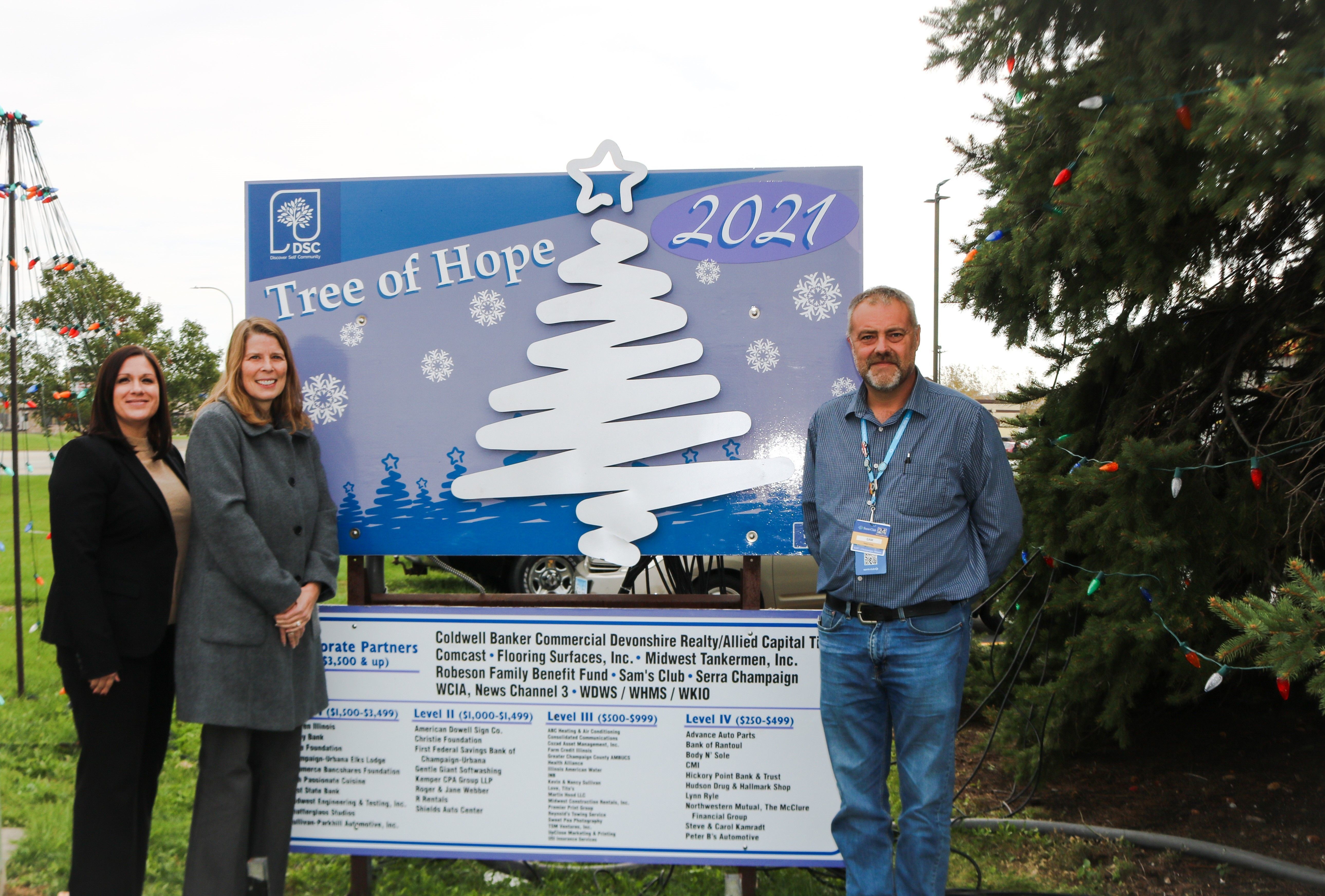 Meet Sam's Club!
As part of our Annual Tree of Hope Kick-off, we also include a special recognition event and award several individuals for their outstanding achievements. This year is our 35th year for the Annual Recognition Awards. DSC has been fortunate over the years to work alongside many wonderful community partners, and collaborators-more than we could ideally mention in this article. One of those partners is Sam's Club of Champaign.
The relationship between Sam's and DSC dates back many years. Whenever the holidays came around, or DSC was hosting a party at one of our CILAs (Community Integrated Living Arrangements), Sam's has always been there, willing to provide cakes, cookies, and soda for the people and programs supported at DSC. During the pandemic, Sam's Club helped DSC stay informed, and stocked on key items for our CILAs. Sam Skinner, the General Manager at Sam's Club, shows genuine concern for DSC, and the people who we support.
This has certainly been the case with Tree of Hope, DSC's largest fundraiser, as well. Sam's became involved with Tree of Hope in the early years providing a cake for the event, when it was in the morning, and was held in the showroom at Sullivan-Parkhill. With time, their level of commitment has grown into an annual, event sponsorship provided through the Walmart Foundation Community Grant program.
Sam's Club sponsorship of Tree Hope brings awareness and support to over 1,100 children and adults with intellectual/developmental disabilities in Champaign and Ford counties who receive supports from DSC.
The Walmart Foundation was created to help support the communities Walmart serves. "Our philanthropic efforts seek to unlock or create a solution that can't be accomplished by the market and help transform systems for better outcomes. Together, business and philanthropy, through the collaborative efforts of many, can help transform systems for better outcomes."
DSC is proud to partner with Sam's Club, and The Walmart Foundation, as we mutually create impact in our community. Congratulations, Sam's Club of Champaign for being a 2021 Award Recipient! Thank you, for your generosity and support of DSC and Tree of Hope!