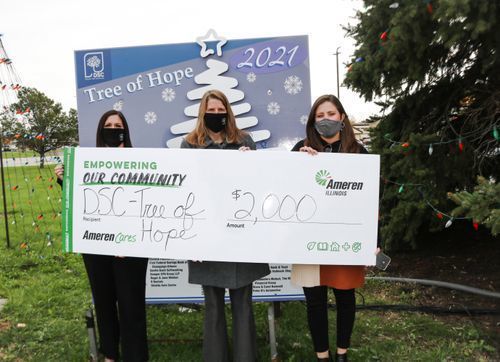 Meet Ameren Illinois!
We recently had the opportunity to speak with one of DSC's sponsors, Ameren Illinois. We interviewed, Ameren Illinois Community Relations Coordinator, Karly Combest, who has been with Ameren Illinois for three years.
In her position as Community Relations Coordinator, Karly is involved with cities, and communities, specifically participating in events, and programs. Additionally, she oversees the community education initiatives regarding safety for electric, and natural gas for children, as well as for adults. She's also regularly engaging with non-profits through Ameren Illinois' grant program, and volunteer opportunities. "I've always felt like I have the best job! I love presenting checks to community organizations, and having a direct impact on the great work they do," said Karly.
Ameren Illinois' grant program sponsors Tree of Hope, increasing DSC's capacity to share the Tree of Hope family's story. "With DSC having such a wide base of people they're supporting-adults, children, and residential homes, around the community, it makes a great partnership for us," said Karly. "Community involvement is an important value at Ameren Illinois. Our co-workers, and families also live, and work in the community, so we want to give back in the communities where we live, and work."
In addition to sponsoring Tree of Hope, Ameren has also granted funds for DSC to purchase needed items for our Residential CILAs/group homes, such as commercial washers and dryers.
"We're committed to empowering the communities we share, by giving back to the places we call home, because no matter your abilities, we are all a part of this great community. This is why we're proud to partner with DSC, and the 2021 Tree of Hope Campaign. On behalf of my co-workers at Ameren Illinois, I'd like to thank DSC for the difference they make in the lives of those with disabilities. Your efforts are lighting the way to break down barriers, and show us how our differences can bring us together as one community," said Ron Juarez, Regional Director for Electric Operations at Ameren Illinois.
Thank you Ameren, for supporting DSC and Tree of Hope!
If you would like to learn more about them please visit: https://www.ameren.com/illinois/