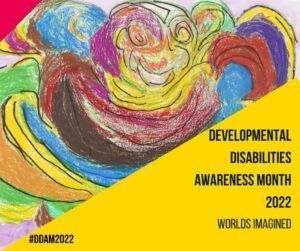 March is Developmental Disabilities Awareness Month. President Ronald Reagan established Developmental Disabilities Awareness Month in 1987 through a presidential proclamation.
Every year the National Association of Councils on Developmental Disabilities (NACDD) initiates a social media campaign that highlights the way in which people with and without disabilities come together.
The campaign seeks to raise awareness about the inclusion of people with developmental disabilities in all areas of community life, as well as awareness of the barriers that people with disabilities still sometimes face in connecting to the communities in which they live.
DSC celebrates the unique strengths, talents, and differences of individuals with developmental disabilities not only during Developmental Disabilities Awareness Month but every day in a variety of ways:
Person-Centered Practices: to be person-centered means treating individuals with dignity and respect; building on their strengths and talents; helping people connect to their community and develop relationships; listening and acting on what the individual wants. 
Community Living: DSC responded quickly in the late 1980s when a national movement began to provide residential options for people with disabilities creating opportunities to achieve higher levels of independence. DSC initially developed two residential group homes and an apartment building in Champaign County. Today, DSC has 10 CILAs (Community Integrated Living Arrangements) and a Community Living program to support people to live their best life enjoying independence, community engagement, and self-sufficiency.  
Self-Advocacy: Empowering people with disabilities to advocate is at the core of our mission. Throughout the year DSC supports individuals as they participate in a variety of self-advocacy activities like The Arc of Illinois - Speak Up and Speak Out Summit and Going Home Rally. They choose what is important to them and advocate for themselves and others.
DSC proudly supports and recognizes Developmental Disabilities Awareness.
#DDawareness2022, #DDAM2022 #WorldsImagined
Sources:
https://www.cdc.gov/ncbddd/developmentaldisabilities/index.html