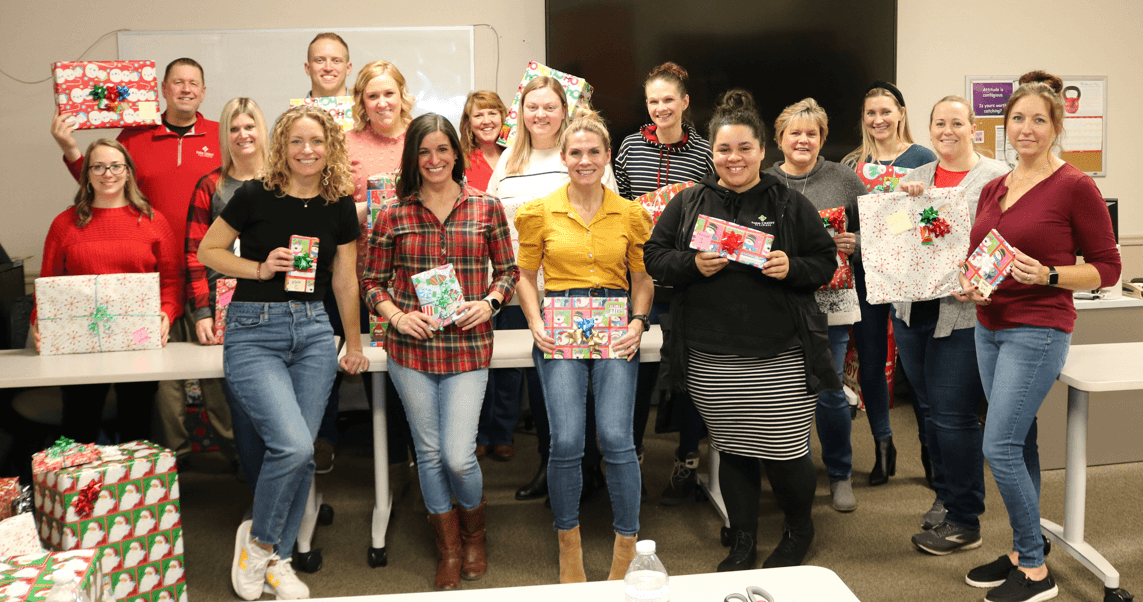 We couldn't let this holiday season get past us without introducing you to our good friends, Farm Credit Illinois (FCI), who have graciously supported DSC through the years in numerous ways, but especially by lending their time and talents every year to be our marvelous gift wrappers for all the DSC Holiday Wish List gifts!
Farm Credit Illinois' DSC Holiday Wish List gift wrapping tradition began more than 10 years ago! To tell the story, here's Judy Wallace, recently retired Earnings Analyst for FCI:
"FCI's CFO at the time had previously served as DSC's CFO. He approached me and asked how I'd feel about incorporating some 'Christmas giving spirit' into our traditional holiday lunch day by helping DSC for a few hours. I thought it was a wonderful idea to give back to the community – and I knew our team would as well! In addition to wrapping gifts that first year, our team toured the employment services program and a residential home at DSC. It became a transformational moment for us all to embrace the important work DSC delivers to our communities. Ten-plus years later, the annual DSC gift wrapping tradition helps put us in the holiday spirit – and we embrace the day as much more than just a lunch."
In addition to the Holiday Wish List, Farm Credit has been a long-time sponsor of the Tree of Hope and C-U Oktoberfest. The staff has also volunteered at C-U Oktoberfest, done yard work at residential homes, and washed and cleaned out DSC transportation buses.
Judy expressed, "I enjoy supporting DSC because they do so much and don't always get as much recognition as they deserve. It is rewarding to give back to an organization that makes a significant impact in our communities."
Thank you, Judy and Farm Credit Illinois for all you've done through the years! We are immensely grateful.