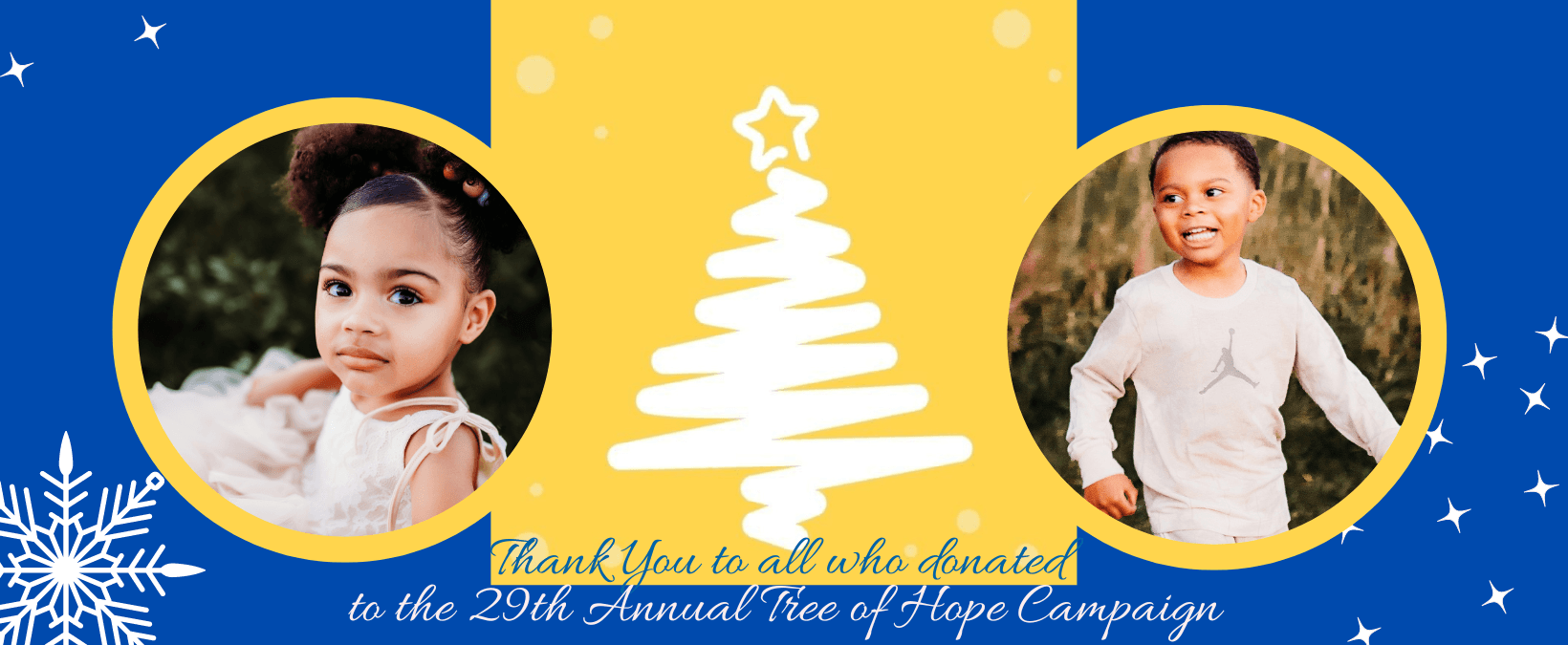 Seems like yesterday that we kicked off the holiday season in early November by introducing you to our 2022 Tree of Hope Spokesfamily, Caleb, Cali, and their mother, Amber Fitzgerald. Now, here we are already a few days into February and wrapping up the 29th Annual Tree of Hope Campaign!
Throughout this Tree of Hope Campaign, we had the opportunity to share the Spokesfamily's story. A moving story of the services and supports DSC is providing to Caleb and Cali, helping them to learn, grow, and realize their full potential. We also had the opportunity to recognize and celebrate the accomplishments of our 36th Annual Recognition Award Winners, including Employer of the Year—Champaign Unit 4 Schools, Special Recognition Award Winners—Champaign-Urbana Public Health District and Brad Allen, and Personal Achievement Award Winner—Wendy Wallace.
Amber had this to say about her family's involvement with the campaign, "Being the spokesfamily for such a wonderful organization has been one of the most amazing opportunities my kids and I have ever had. We will cherish all of the experiences that came with it forever."
"We would like to take this opportunity to thank Amber and her family for sharing their personal story and their commitment to the campaign. And thank you to every donor whose gift provides hope for individuals supported by DSC and to the sponsors who make this campaign possible. I am thrilled to share that we raised over $207,000! We are so grateful for the community support," said DSC Chief Executive Officer, Danielle Matthews.
"Every year the Tree of Hope Committee is tasked with setting a goal for the Tree of Hope Campaign. After an overwhelmingly successful campaign in 2021, we set a goal of $215,000 this year. Although we are just short of our goal, $207,000 is still incredible! I am proud to be a part of this awe-inspiring community and thankful for your commitment to DSC's mission," said DSC Tree of Hope Committee Chair, Zach Wetherell.
Donations from the Tree of Hope directly impact our programs and services, allowing DSC to continue providing supports for more than 1,200 children and adults with intellectual and/or developmental disabilities. Every gift given helped light the Tree of Hope, located on the corner of Prospect Avenue and Marketview Drive in Champaign. The lights represent the services DSC provides. Each time a bulb was lit, it signified $50 in contributions to the campaign, thus, allowing DSC to provide the resources and services vital to a brighter future for individuals with intellectual and/or developmental disabilities and their families.
Thank you again, Caleb, Cali, and Amber, and to all of our sponsors, donors, and community partners for helping us light the Tree of Hope and continue to fulfill our mission to support people in living a rich and meaningful life!