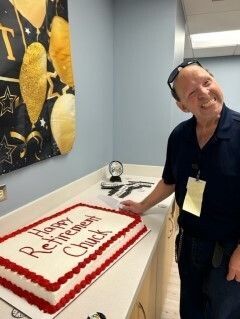 As we celebrate Independence Day, we are reminded of the importance of freedom and independence for all people. You may ask, "Why is independence important for people with disabilities?" The simple answer, it is the same for all adults—a sense of independence helps build self-confidence and makes people feel more empowered, positive, and fulfilled in life. DSC is dedicated to supporting children and adults with intellectual and/or developmental disabilities as they strive to achieve their goals.
DSC continues to impact the lives of those receiving services throughout our community. We are proud to provide customized services to more than 1,100 children and adults, so that each person receives services and supports tailored to meet their desired goals. With personalized support, everyone can achieve greater levels of independence…just like Chuck.
Chuck has been a part of the DSC family for over 30 years. He has received support through DSC's Employment Services and Community Living program. Chuck recently started a new chapter in life….RETIREMENT! For the last 12 years, Chuck has been a valued team member in the dining services at Carle Hospital. Although he knows how to take the MTD, Chuck chose to walk to and from work, rain or shine, often times arriving early. "Chuck was a dedicated employee and rarely missed a day of work. He has the inherent quality of caring. He cared about his work immensely and was particular about his results. We already miss him," shared Dan Knuppel, General Manager of Carle Food Service and Chuck's supervisor the past 10 years.
Chuck decided about a year ago it was time to begin planning for retirement, as he would joke about getting "old"! Joni Dreyer, Community Living Specialist at DSC, who has been supporting Chuck for more than 5 years, helped with his transition into retirement. Joni said, "Once we started the conversation, we realized the need for a more affordable housing option." His retirement had to be postponed until a safe and affordable alternative was found. "Moving into C-U Independence will help Chuck live comfortably during retirement," says Joni.
Chuck meets with Joni weekly, and she helps with any household assistance he may need. DSC's Community Living program supports people living independently in the community with personal guidance in all areas of daily living—promoting choice, health, safety, and well-being. During a recent medical appointment, Chuck expressed his gratitude for Joni and all she does to support him.
With support from DSC's Community Living program, Chuck realized his goal of retirement. As he now settles into retirement, he looks forward to watching more Cardinals games and enjoying NASCAR races.
Many people throughout our community desire this same opportunity to receive individualized services and supports that helped Chuck achieve his career and retirement goals. As DSC continues its efforts to impact more lives like Chuck's, we ask for your financial support to help us offer greater independence for all who receive DSC services. By making your gift today, you are partnering with us to promote independence and celebrate its true meaning!
Watch for more information about Chuck's story to arrive in your mailbox, or to donate to our Mid-Year Appeal now, visit https://www.dsc-illinois.org/get_involved/donate.html