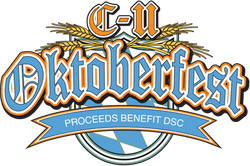 A HUGE thank you to all of our amazing sponsors for our 9th Annual C-U Oktoberfest!
C-U Oktoberfest would not be possible without your support! 
Roll Out the Barrel
Polka Provider
Happy Wanderer
Pretzel Twister
Chicken Dancer
We are always looking to add more C-U Oktoberfest sponsors! If you would like more information please contact Jodie Harmon, DSC Director of Development and Communications at jharmon@dsc-illinois.org or 217-356-9176.