The Barnes Family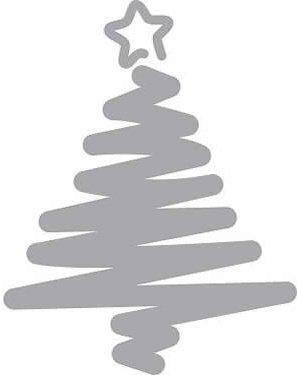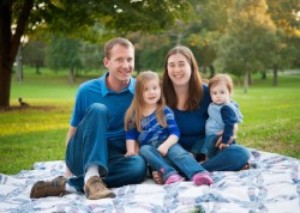 Our journey in the special needs community began on April 20th 2012 when Makenna was diagnosed in utero at 18 weeks with spina bifida, hydrocephalus, Chiari 2 malformation and agenesis of the corpus callosum. As first time parents just starting in this uncharted territory we found an amazing and supportive team of medical professionals at St. Louis Children's Hospital, who we nicknamed the "Dream Team". It was a scary time for us but our "Dream Team" gave us a lot of hope and support. Makenna was born in September at Barnes Jewish Hospital and then was transferred to the NICU at St. Louis Children's Hospital. 
Makenna had two surgeries during her NICU stay; one to close her back and one to place a shunt to treat her hydrocephalus. Makenna spent 10 days in the NICU recovering from her two surgeries and then we were able to come home. Once we were home we had to search for local services to provide the care and therapy Makenna needed. Since Makenna was born so far from home, St. Louis Children's Hospital did not know what services or supports our local community offered. We discovered Early Intervention and a physical therapist and developmental therapist came out to evaluate Makenna. She qualified for services and we began physical and developmental therapy with Early Intervention when she was just six weeks old.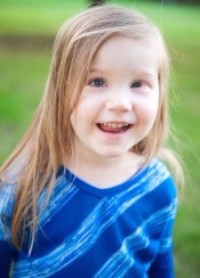 Makenna's journey throughout her first few years had its ups and downs, with nine surgeries and additional diagnoses, including central sleep apnea, breath-holding spells, global apraxia, neurogenic bowel and bladder, and a neurotrophic ulcer on her cornea causing us to need to seek out additional services. We had a lot of members on Makenna's team including therapists and her specialists. They were all so supportive and helpful.
When Makenna was about two we had a speech therapist from DSC come out to evaluate her for speech services. In addition to speech therapy, Makenna also started receiving vision and nutrition services. Around her second birthday we had the opportunity to participate in a weekly play group at DSC. The play group was amazing and a wonderful transition step before starting pre-k. It allowed Makenna the opportunity to interact with her peers and learn routines while still having a parent involved in the activity.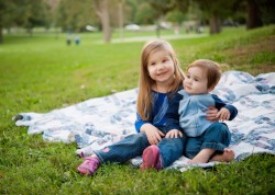 As Makenna turned three she transitioned out of Early Intervention and started to attend Champaign Early Childhood Center. She loves all the friends she has made. DSC continues to be an integral part of our journey by providing respite for our family through its Individual and Family Support program (IFS). Finding childcare for Makenna has been extremely challenging as she needs close supervision and individuals that are trained, but DSC has helped our family by providing professionally trained respite workers for our family to use on a weekly basis.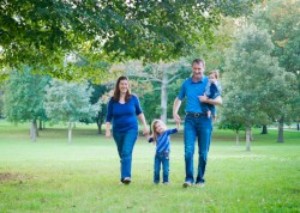 Individual and Family Support has been an extremely necessary and helpful service for our family. When I was six months pregnant with Makenna's sister, Adalynn, Makenna had fallen down on the driveway and I could not pick her up to carry her into the house.  As we both sat on the driveway, I realized we needed help to keep Makenna, Adalynn, and I safe. I contacted DSC after I had been turned down by every other organization I called to try and get some assistance.  They told me that they could help and provided our family with an amazing caregiver. During my 37th week of pregnancy, during a doctor appointment, I was informed that Adalynn's fluid level was too low and she would need to be delivered by C-section in the next few hours.  At the time, my husband, Joe, was traveling for work and was trying to make it home for the delivery. Due to the unexpected change in our delivery schedule and given Makenna's medical history, I could not leave her with a neighbor or friend so it was arranged for our amazing caregiver and a friend to meet Makenna and I at the hospital, staying with us until Joe arrived. To be able to have such a wonderful resource and personal support right there with us, helped to alleviate unnecessary stress as we prepared for Adalynn to join our family.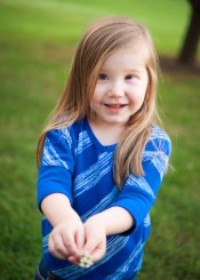 Over the last four years as Makenna has grown she is a spunky, silly, fearless, friendly, strong-willed, determined, outgoing, amazing person who has shattered expectations in what she would or would not be able to accomplish.  She has worked very hard to get to where she is and all of her amazing friends, therapists, and specialists have been right there along the way cheering her on and providing support.
Without the support that DSC has provided for our family I am not sure where we would be in our journey. I know that they have become like part of our family and have provided support to us when no one else would. They are an integral part of the team and we cannot thank them enough for being part of our "Dream Team".   
Please help light the way for our family and many others by making your Tree of Hope donation today!
---
Thank You Sponsors
Without the support of our sponsors, the Tree of Hope would not be the success we have come to truly appreciate and value! The sponsors for the Tree of Hope Campaign, completely underwrite the cost of the campaign, allowing every donated dollar to go directly to services and supports for the individuals and families in our community.
DSC Corporate Sponsors take their commitment one step higher. As a result of the level of their sponsorship donation, they have pledged to become a partner with DSC in helping us fulfill our mission. These companies and/or foundations will be recognized at every DSC fundraiser as they truly are our partners. 
Corporate Partner Sponsors
---
Level I Sponsors
In addition to the Level I sponsors, we also value each and every sponsor who supports the Tree of Hope campaign. Level II Sponsors include: American Dowell Sign Company, Down Syndrome Network, Health Alliance, Horizon Hobby, LLP, Kemper CPA Group, LLP, and MetriTech, Inc. Level III Sponsors include, Cozad Asset Management, Inc., Direct Impressions, Greater Champaign County AMBUCS, RSM US LLP, Kevin & Nancy Sullivan, Sweet Pea Photography, and TSM Ventures, Inc. Level IV Sponsors include: Advance Auto Parts, Bank of Rantoul, Bartell Powell, LLP, Body N' Sole, Christie Foundation, CMI, Commerce Bank, Farm Credit Illinois, Hickory Point Bank & Trust, Hudson Drug & Hallmark Shop, Kingdom Lawn Care, Martin One Source, Northwestern Mutual, The McClure Financial Group, Orange & Blue Distributing Company, Panera Bread, Pepsi Cola C-U, Peter B's Automotive, Lynn Ryle, and Wells Fargo Insurance Services.